FIRST Robotics Competition Blog
New Chief Volunteers!
Sep 19, 2019
Written by Fiona Hanlon, Volunteer Resources Coordinator, FIRST Robotics Competition
As many of you know, it takes a large number (approximately 120!) of volunteers to run each FIRST Robotics Competition event. For the past several years, we have had Chief Volunteers who help lead some of our Key Volunteer Trainings and are who we go to when we want their expertise and opinions. With our events growing each year, so has the responsibility of our Chief Volunteers. To help lighten the burden, we have asked all our Chief Volunteers to transition to Co-Chiefs for each volunteer group. Co-chiefs give each chief someone else to share the workload with and talk things through. It also gives the FIRST staff an extra point of contact should one of the Co-Chiefs be unavailable for whatever reason. We have recently welcomed three new Co-Chiefs over the summer – Scott Goering (Co-Chief Field Supervisor), Jon Zawislak (Co-Chief Referee), and Chuck Dickerson (Co-Chief Inspector).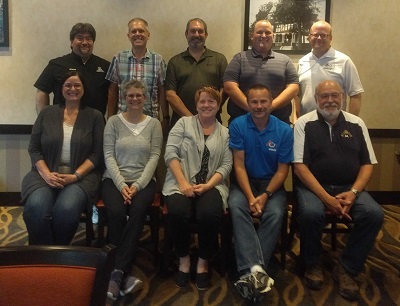 Photo includes some FIRST Staff and is missing some of the Co-Chiefs.
Scott Goering is a Manager of Information Technology at PRA Health Sciences and is from De Soto, Kansas. Scott has been involved with FIRST since 2001 where he participated on his high school FRC team 935 (that means he's an alum!) He began volunteering for FIRST in 2007 when he wanted to be involved with FIRST but no longer had a team nearby. Scott has volunteered at every single Greater Kansas City Regional and has held roles for FRC events such as Field Repair-Reset, Scorekeeper, Field Assembly and Disassembly, FTAA, and FTA. He's even had the opportunity to travel to Wisconsin, Oklahoma, Texas, South Carolina and Michigan in order to volunteer his time supporting FRC. In addition, he serves on the Regional Planning Committee for the Kansas City regionals, has been the Kickoff Coordinator for several years, and judges and refs FTC events occasionally.
Jon Zawislak is a hurricane scientist at the University of Miami and NOAA. So he actually flew Dorian with the NOAA Hurricane Hunters. Jon has been involved with FIRST since 2003 where he participated on his high school FRC Team MOE 365 his senior year (that means he is also an alum!) and has been volunteering for FIRST since 2003. Jon has held roles for FRC events such as Team Queuing, Lead Queuer, Referee, and Head Ref. He has been a Head Ref since 2014 and has been a Senior Referee helping with the training of Head Refs around the world for 4 years.
Chuck Dickerson is a Research Computer Scientist for the US Army Corps of Engineers (USACE), Engineer Research and Development Center (ERDC), Information Technology Laboratory (ITL), Sensor Integration Branch (SIB) and began working there in high school as a student intern. He is from Vicksburg, Mississippi and has been involved with FIRST since 2004 when he became the lead mentor of Team 456 along with his wife Ginny. Chuck was hooked from his first competition when he realized it was about working together as a team and with other teams to solve a problem together. He began volunteering for FIRST in 2010 and has held roles for FRC events such as Field Assembly and Disassembly, Robot Inspector, and Lead Robot Inspector. He also volunteers for FLL and FTC events whenever he can. Chuck has been an LRI since 2011 and has been the Assistant Chief Inspector for several years.
Please join us in welcoming our new Co-Chiefs! This brings all our Chief Volunteer positions to having Co-Chiefs. We want to thank all our Chiefs again for their all hard work and dedication they provide each season!
Co-Chief Field Supervisors – Paul George & Scott Goering
Co-Chief Judge Advisors – Allen Bancroft & Cindy Stong
Co-Chief Referees – Aidan Browne & Jon Zawislak
Co-Chief Robot Inspectors – Al Skierkiewicz & Chuck Dickerson
Co-Chief Volunteer Coordinators – Laurie Shimizu & Sarah Plemmons