FIRST Robotics Competition Blog
Become a FIRST Robotics Competition Judge
Feb 01, 2021
Written by Fiona Hanlon, FIRST Robotics Competition Program Specialist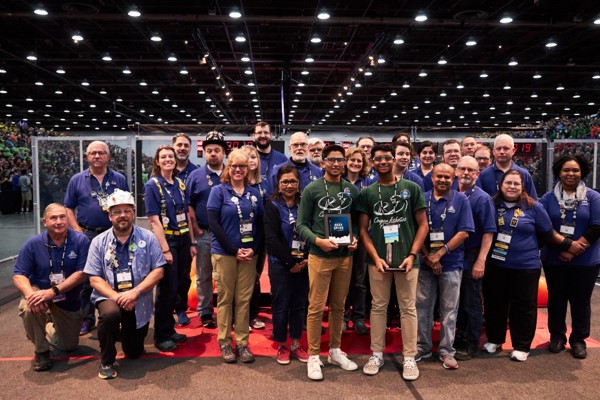 This season is different in many ways, but one thing that is the same is our need for volunteers to help us ensure teams have the best experience! This season, we need help filling the judge role.
Never been a judge before? That's okay, we will provide training. Judging is entirely remote this season, so you can do it from the comfort of your couch.
Judges need to be at least 23 19 (updated Feb 10, 2021) years old in order to volunteer, but anyone that meets that age requirement can apply, including team mentors! If you have a conflict of interest with a team (i.e. mentor, team sponsor, etc.), we will ensure you are not assigned to judge the team with which you have a conflict of interest and ask that you sign the Conflict of Interest form. Judging is inspiring! You get to interact directly with teams and, this year, learn about teams' amazing game design concepts, robots, and/or their innovative solutions to real-world problems.
Due to the unique season, we are not sure how many teams will submit for each challenge. This complicates judging logistics, so we are currently running with estimates on how many teams will submit. Our current guesses indicate we could need upwards of 1,500 judges this season! One thing that teams can do to help is when the frcathome.org portal opens (on February 4th), log in and opt-in to the challenges in which your team plans to participate. Don't worry, it's not a commitment, but it does help us with planning because it helps us have a more informed picture of the total number of judges we need for this season.
The At Home Challenges is where we have the biggest need for judges. ICYMI, here's what we mean when we say the "At Home Challenges":
Game Design Challenge - teams design a game that could be played by FIRST Robotics Competition teams. As a judge, you review team submitted materials and listen to a presentation on their game.
INFINITE RECHARGESM at Home – teams illustrate their robot's technical qualities by sharing information with judges remotely to compete for traditional machine awards.
FIRST Innovation Challenge presented by Qualcomm - teams identify a real-world problem, design a solution, build a business model, and deliver a pitch to compete with other FIRST Robotics Competition teams for judged awards.
For each At Home Challenge, teams are divided into groups of ~30 teams each, regardless of their location, and compete with other teams in that group (e.g. a team from Australia may be in the same group as a team from Michigan). Each judging panel interviews ~10 teams. Interviews will be scheduled at times convenient to both judges and teams over a three-week window from mid-March to mid-April.
If you're still on the fence, know that you don't have to take my word for it! Here are a couple comments we have on hand from people that have enjoyed the judge role:
I judge because I want to provide students with an optimal experience, an interested person to hear them talk about their achievements and experiences. But it goes both ways because I leave every event, I judge feeling invigorated, inspired and excited about the future and watching what the next generations achieve.
I love volunteering as a judge because I enjoy interacting with students and seeing what makes them excited – be it an innovation challenge, robot, or their safety program (depending on the program).
FIRST could not be possible without the support of our volunteers. We hope you consider becoming a judge this season! For more information about the judge role, check out this overview.
Volunteer today! And if you need help finding the correct event, follow these step-by-step instructions!