FIRST Robotics Competition Blog
FIRST WPILib Documentation expands to include more languages plus FIRST Game Jam
Oct 15, 2020
Written by Taylor Brown, Program Coordinator, FIRST Robotics Competition.
We wanted to let you know about some exciting updates from WPI that will hopefully make a lot of teams lives a little easier moving forward!
A few months ago, WPI's Austin Shalit and Brad Miller started doing some localization work on the WPILib Documentation in order for the content to be more easily translated into different languages. This effort has quickly expanded into a project involving a number of people across the globe!
The work began with a group of several enthusiastic teams, volunteers, and mentors in the FIRST community who volunteered to translate more than 300 programming documents from English to French. That's roughly 172,000 words, but who's counting?
The team recently wrapped up the project in just under two months. You can read more about it and all the awesome people who made it happen here.
Currently there are several other volunteers working on translating these documents to Spanish, which they have already completed by more than 50%.
The folks at WPI are also working with several other groups to get started on translating the documents into more languages. Some of the ones you can expect to see on the website in the future include Chinese, Hebrew, Portuguese, and Turkish.
Accessing translations:
To access the translations currently available, visit Docs.WPILib.org. The English translation will appear by default.
At the bottom left corner click the black box that says "Read the Docs."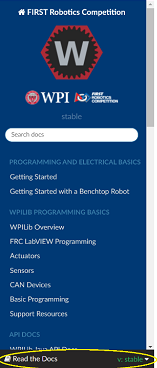 Under languages, you can select English, Spanish, or French.
Make sure to continue to check back to see as more languages are added!
If you have any suggestions or questions about the project, please reach out to Brad Miller at Brad@bradhouse.com.
WPI is also hosting the FIRST Game Jam! This is an exciting opportunity to collaborate with others and share your FIRST experience beyond the FIRST community! There are lots of opportunities to learn about how to create virtual games being provided prior to the start of the competition, so all levels of participants are welcome. Check out all the details here and get in the game!