FIRST Robotics Competition Blog
A New Program Director for FIRST Robotics Competition
Oct 12, 2022
Written by Chris Rake, Executive Vice President and Chief Operating Officer, FIRST
Shortly after FIRST® Championship, we launched a search for our new Senior Director of FIRST® Robotics Competition. It is my pleasure to announce that we have completed this search, and Collin Fultz will be the new Senior Director of FIRST Robotics Competition, effective immediately!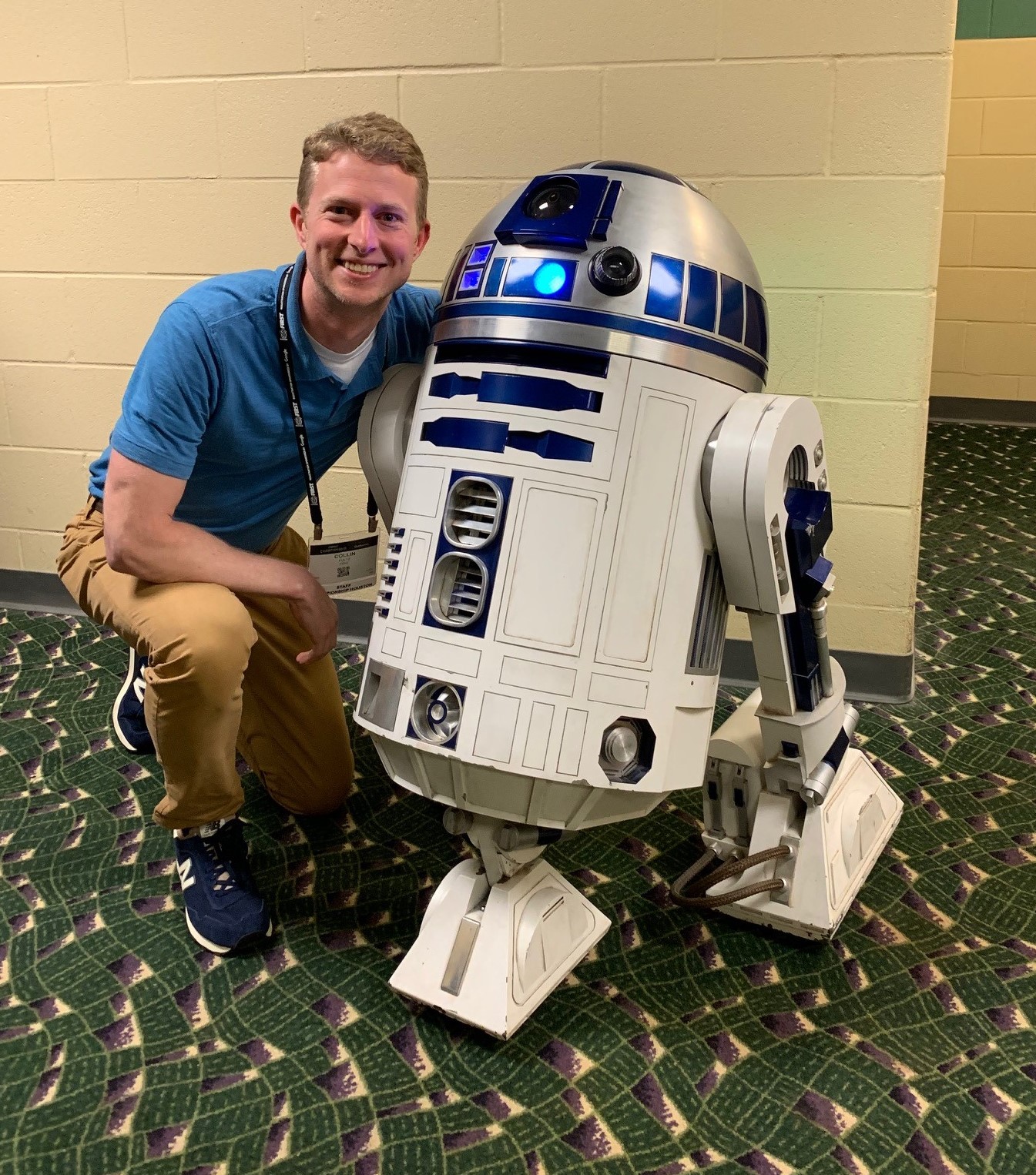 Collin (left) with R2D2
Collin brings to this role a diverse background of experience both inside and outside of FIRST. He began in FIRST as a student on FIRST Robotics Competition Team 234. After high school, Collin attended Purdue University on a FIRST Scholarship and earned a Bachelor of Science in Mechanical Engineering. While at Purdue, Collin stayed involved with FIRST by volunteering at events and as a team mentor. He also interned at Rolls-Royce, a Team 234 sponsor, and after graduation, Collin worked full-time as a project engineer there. He also worked as an application engineer for Bastian Solutions, helping create custom material handling solutions for customers.
In 2010, Collin started his career at FIRST as the Kit of Parts Engineer. Since then, Collin has also held the positions of FIRST Robotics Competition Team Advocate, FIRST® LEGO® League Project Manager, Stewardship Manager, and (most recently) FIRST Robotics Competition Senior Program Manager and Interim Director.
Throughout this time Collin continued to volunteer for FIRST. He has been an Emcee, Game Announcer, and Robot Inspector for FIRST Robotics Competition, and a judge for FIRST LEGO League and FIRST® Tech Challenge. In 2015, he joined the Board of Directors for FIRST Indiana Robotics and served for four years, including two as Board President. Today, he helps coach FIRST® LEGO® League Challenge and FIRST® LEGO® League Explore teams. Recently, Collin earned an MBA from Indiana University, graduating in May 2022.
"I am excited and humbled by this opportunity. In high school, I was incredibly lucky to attend a school that had a FIRST Robotics Competition team. The FIRST experience has shaped my life – professionally and personally – for more than 20 years, Collin shared. "My goal is to make this life-changing experience more accessible to students around the world. To allow them the opportunity to build, create, and innovate a better future for us all.

Please join us in congratulating Collin!
Chris