FIRST Robotics Competition Blog
Digital Animation Award, Award Update, and Video Request
Nov 10, 2022
Written by Fiona Hanlon, FIRST Robotics Competition Team Experience Specialist
Digital Animation Award
Submissions for the Digital Animation Award are now open. Please note that the submission process has changed slightly this season and specific details on how to submit and requirements can be found on the Digital Animation Award webpage. We can't wait to see your animations for this year's theme: Charged Up! Teams have until January 19th at 11:59pm ET to submit their animation.
A big thanks to our friends at AutomationDirect.com for sponsoring and judging this award!
Award Update
Speaking of awards, check out the 2023 FIRST® Robotics Competition Medallions this season: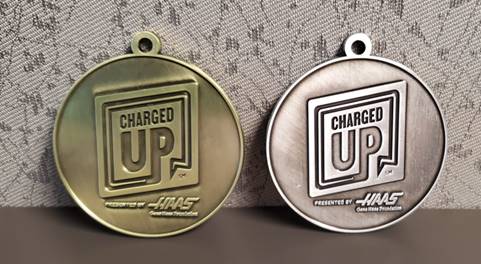 We also wanted to share that the number of medallions presented to teams that are the Event Winners, Event Finalists, Engineering Inspiration Award Winners, and FIRST ® Impact Award Winners has changed to 30 per team. Additionally, FIRST Impact Award Winners will be given 30 pins. If your team is larger than 30, you can still buy additional pins or medallions from the FIRST Robotics Competition Awards website. We made this change due to the increased cost of medallions and decreased average team size in 2022.
We want to feature our teams!
We are busy getting ready for events for the 2023 FIRST Robotics Competition and want your help! Teams can submit videos for the opportunity to be highlighted at a 2023 FIRST Robotics Competition event. Choose one or more of the following and make a video that is 20 seconds or less and submit it into this form. Videos must be submitted by January 31st, 2023:
Show us your craziest or weirdest non-traditional application of your robot (e.g. dance moves, pizza delivery, etc.)
Show us your team pets (bonus points for pets in team apparel*)

*actually, there are no points, but we would still love to see it!

Show us your most creative Mascot Dance Moves
Show us your team's favorite cheer
Show us your most unique robot/mechanism fails (e.g. prototype works opposite of how you thought, robot drives in wrong direction, etc.)
I can't wait to see your team, robots, and most importantly pets!