FIRST Robotics Competition Blog
Houston Wrap-Up
May 02, 2022
Written by Frank Merrick, Director FIRST Robotics Competition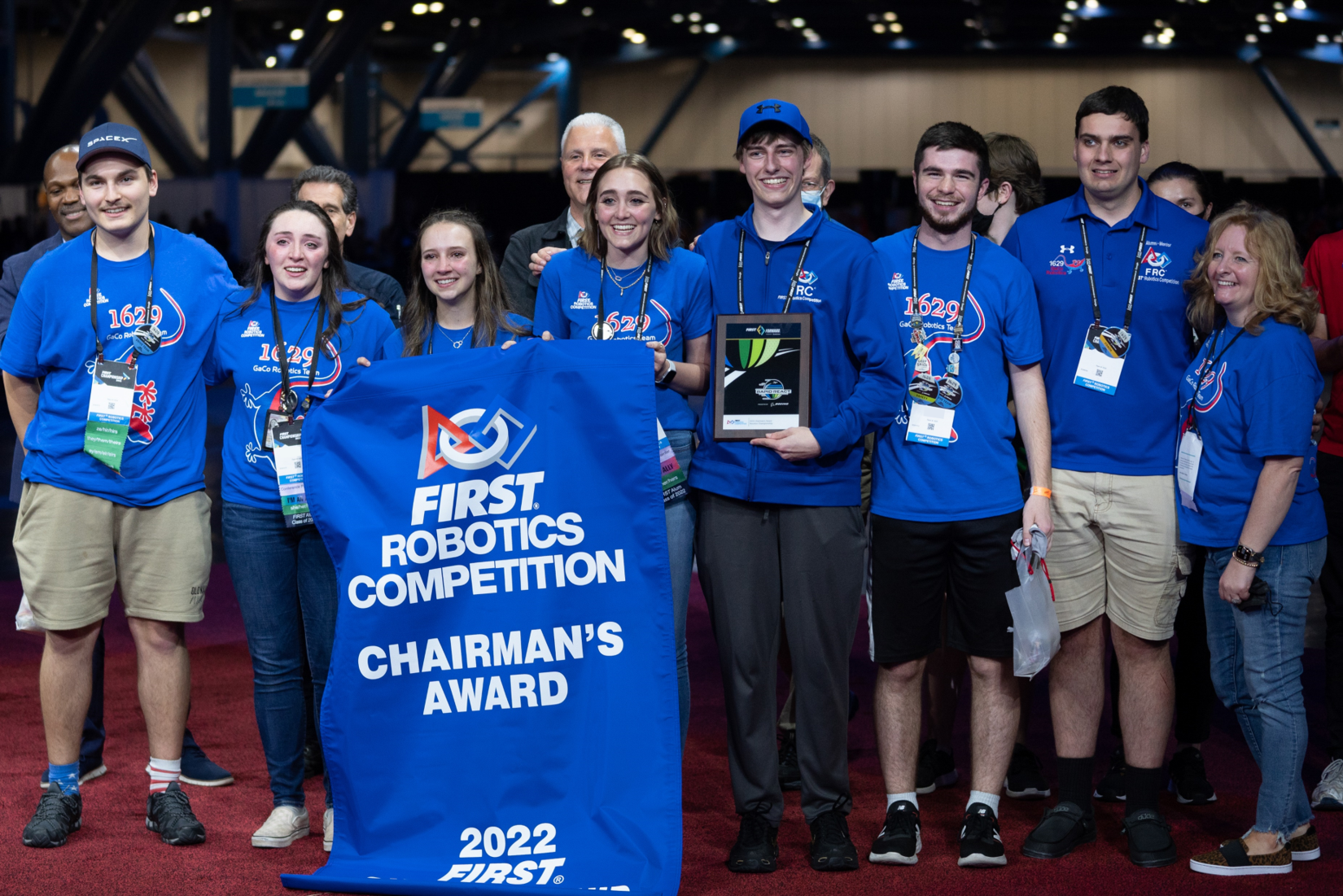 Wow, what a fantastic FIRST Championship in Houston! And it was so wonderful to once again see great friends and watch terrific matches! With 30,000+ attendees across all programs, it was a heck of a party.
Congratulations to the FIRST Robotics Competition Chairman's Award Winner, Team 1629, Garrett Coalition (GaCo), Accident, MD, USA! This amazing team has been around for 18 years and participated in 54 official events. They won their first Chairman's award in 2010 and won a total of 13 Chairman's Awards over the years on their journey to taking home FIRST's biggest prize this season. Congratulations again, GaCo, we're excited to meet your "STEM READY KIDS!"
Congratulations also to our Chairman's Award Finalists, five other fantastic teams:
Team 1511, Rolling Thunder, Penfield, NY, USA
Team 2438, 'Iobotics, Honolulu, HI, USA
Team 2468, Team Appreciate, Austin, TX, USA,
Team 6429, 4th Dimension, Bornova, Turkey, and
Team 6652, Tigres, Monterrey, Mexico
And additional congratulations to the winning alliance:
Team 254, The Cheesy Poofs, San Jose, CA, USA
Team 1619, Up-A-Creek Robotics, Longmont, CO, USA
Team 3175, Knight Vision, Grosse Pointe Woods, MI, USA, and
Team 6672, Fusion Corps, Irving, TX, USA
Shout-out also to our Dean's List winners:
Christopher P, Team 871, Robotechs, West Islip, NY, USA
Joyce Y, Team 1967, The Janksters, San Jose, CA, USA
Nate K, Team 2129, Ultraviolet, Minneapolis, MN, USA
Alicia R, Team 2383, Ninjineers, Fort Lauderdale, FL, USA
Thomas G, Team 2834, Bionic Black Hawks, Bloomfield Township, MI, USA
Nazlı E, Team 2905, Sultans of Türkiye, Istanbul, Turkey
Leslie K, Team 3928, Team Neutrino, Ames, IA, USA
Trevor L, Team 5188, Area 5188: Classified Robotics, Terre Haute, IN, USA
Ethan B, Team 5338, RoboLoCo, Leesburg, VA, USA, and
Arvind S, Team 8027, Not the Droids You Are Looking For, Sharon, PA, USA
And yet more congratulations to our FIRST Robotics Competition Woodie Flowers Award recipient Christine Sapio, mentor for Team 2486, CocoNuts, from Flagstaff, AZ and our Volunteer of the Year Award winner, Chuck Dickerson from MS, USA.
Finally, thanks to the approximately 700 (!) volunteers working to make this such a great FIRST Championship!
I hope everyone who attended has taken some time to recover from what was a rewarding (though exhausting) event! If you attended and have not shared your feedback yet, please take this survey by Friday, May 13th.
Frank