FIRST Robotics Competition Blog
Introducing FIRST Diary of an Innovator Team 6328!
Nov 06, 2023
Written by Team 6328, Mechanical Advantage and FIRST Robotics Competition Staff
This season, follow along as we hear from 4 FIRST® LEGO® League, 4 FIRST® Tech Challenge, and 4 FIRST® Robotics Competition teams from around the world about their season experience and the culture of innovation their team has created.
In this post, we meet Team 6328 Mechanical Advantage from Massachusetts, USA!
Q: Can you give us a brief history of your team?
A: Team 6328 Mechanical Advantage has grown exponentially since our 2017 rookie season largely due to our extensive community outreach and targeted marketing efforts. In our first season, we had 11 students (half of whom were high school seniors) and 5 mentors, creating a critical need for continued growth to be sustainable in future seasons. As a community team, we now currently have 47 students from 14 schools, and more than a dozen volunteer mentors operating out of a dedicated workspace.
In the fall of 2019, we worked with five other FIRST Robotics Competition teams to pilot the Open Alliance (OA) for the 2020 season, committing to a fully open build season process focused on creating community and support across FIRST Robotics Competition teams. The Open Alliance quickly took root and more than 90 teams participated in the 2023 season! We are proud to continue sharing our work throughout the season, and are thankful for the invaluable feedback and support we've received through OA. Check out our 2023 Build Thread on Chief Delphi.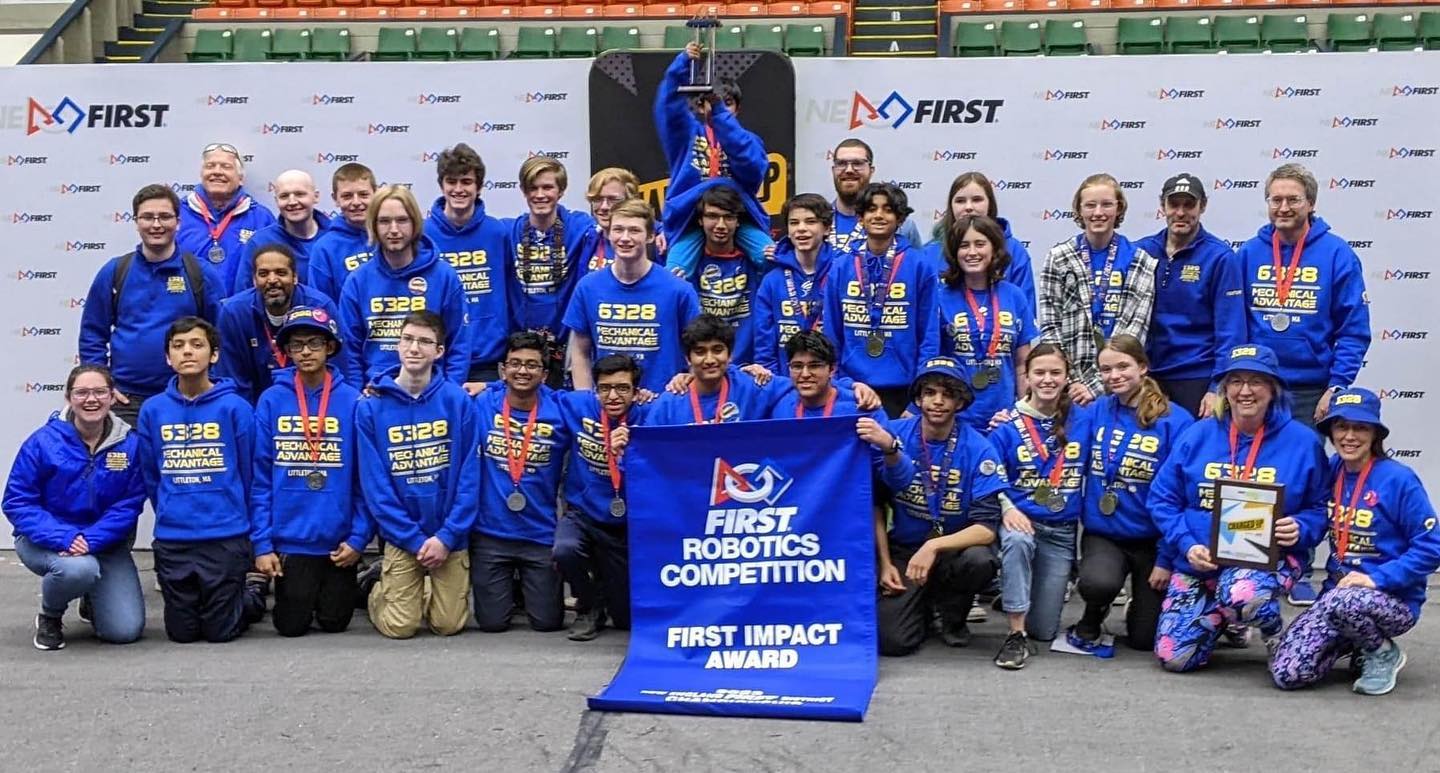 Q: What makes your team unique?
A: Aside from the Open Alliance, our team is outreach focused, logging over 2500 outreach hours per year by running 15 FIRST® LEGO® League Challenge & FIRST® LEGO® League Explore teams, attending community festivals, and organizing Scout activities. Our largest outreach event this off-season was "Robots on Fire" at WaterFire Providence in Rhode Island where we hosted a demo with 22 New England FIRST® teams across all programs for more than 50,000 attendees!
Q: How do you incorporate new team members and teach them the values of the team?
A: We run summer and fall training sessions in Programming, CAD/Design, Electrical Systems, Machining, Strategy/Scouting, Sponsor Outreach, and Student Leadership, where new and returning students work on projects together and learn from each other. We work hard to provide opportunities for new and returning students to make social connections and use our long-standing FIRST LEGO League – to – FIRST Robotics Competition Transition Program to ease adjustment to the "big robots." The pizza party we had a few weeks ago was very popular!
We also run a Girl Up Club in our shop, which is a girl/non-binary-centric fundraising club sponsored by the United Nations that helps fund education and safe spaces for underprivileged girls around the world. Girl Up meets monthly, focusing on fundraising, personal social connections, and thoughtful movies, providing a stepping-stone for a cohort of girls to join the team without prior FIRST experience.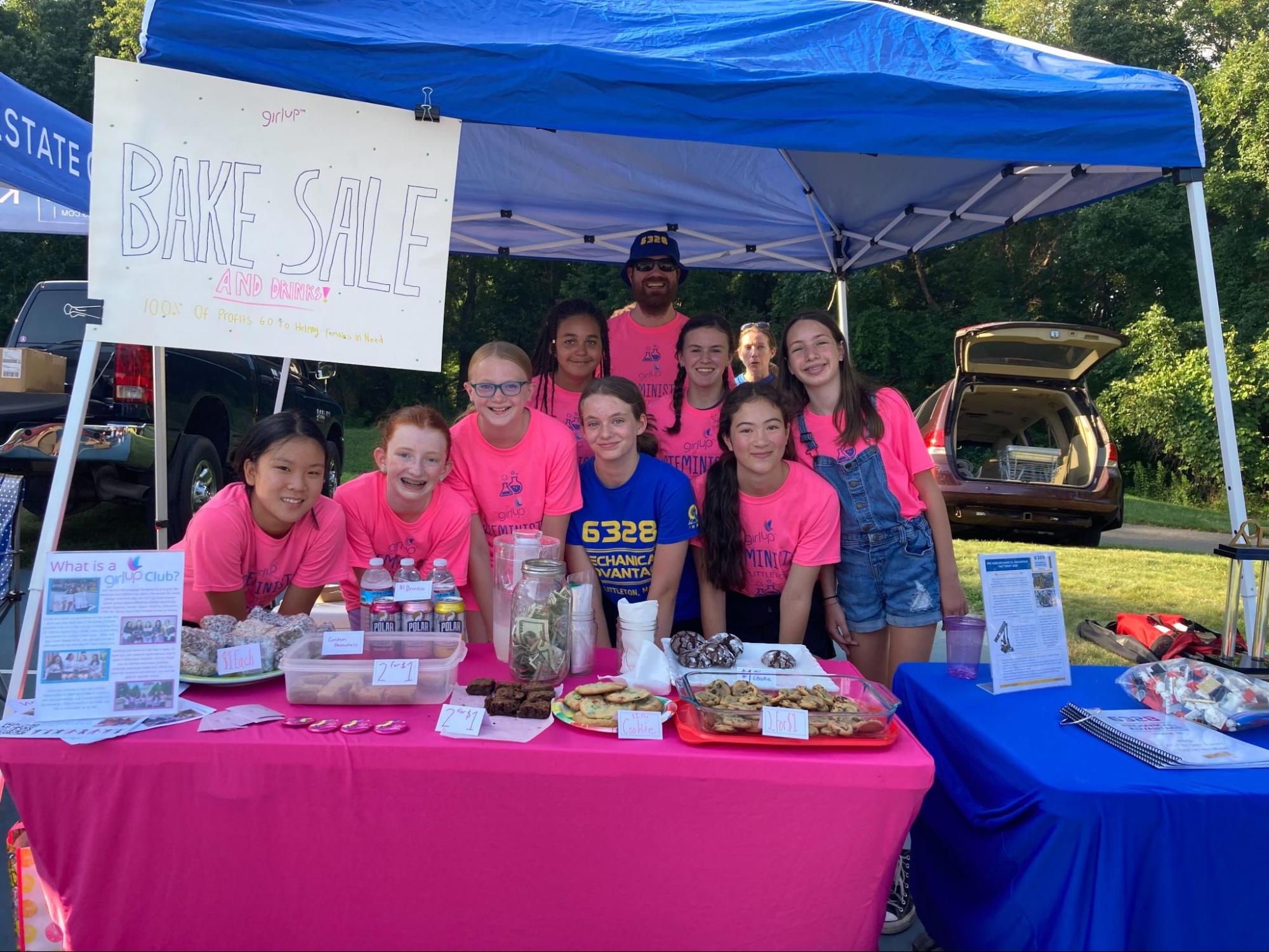 Q: How is your team preparing for the upcoming season?
A: We utilize off-season competitions as a platform for anyone to try anything, encouraging new students to learn how to perform a systems check or scout matches, and motivating experienced students to try leading a subteam. We also try to bring a second robot so everyone can stay busy and dive in.
"The Mayhem in Merrimack off-season competition was a really fun experience and I learned a lot. I want to be on the Media Team so the Media Lead, AJ, showed me a lot of cool tricks to do when taking videos. I also learned some cool things about the robot game itself!" - Bella, new 8th grade team member
Q: This season is all about the role STEM plays in the arts. What are some ways your team ties creativity and art into your STEM activities?
A: We bring art into STEM through our wide-reaching Media Team. Robot beauty shots, event wrap videos, innovative camera angles, engaging music, and funny memes all push the envelope of a typical FIRST Robotics Competition video and are designed to communicate our team culture and values in a fun way.
Q: What has been your biggest challenge so far? What do you anticipate being a challenge this season?
A: It's always a challenge to say goodbye to graduating students and integrate new students, but that's a great challenge to have! This year, we are happily bringing on a larger group of new students than we've ever had before, so we're working through ways to ensure everyone feels like an important part of the team (because they are!) and can access our hands-on training programs so everyone is ready to jump in come January. We held an introductory meeting for new students to learn more about each other, our program, and the mission of FIRST, and most new students are already participating in training programs and outreach events, or even mentoring our FIRST LEGO League teams!