Each season, FIRST Robotics Competition teams receive Kits of Parts (KoP). The KoP is not designed to be a "bolt together" solution to play the game, but is a starting point, containing mostly donated components from Suppliers across multiple industries. For technical information about some of those components, visit the Screensteps repository.
FIRST Robotics Competition Suppliers are an incredibly supportive group who are proud to be involved in the hardest fun you'll ever have! Be sure to thank them when you see them at our events!
Please note, the information on this page is staged for the upcoming 2020 INFINITE RECHARGESM season. Archived Kit of Parts information from the DESTINATION: DEEP SPACE Powered by The Boeing Company season is here.
The KoP System consists of three parts, available to teams through a variety of sources.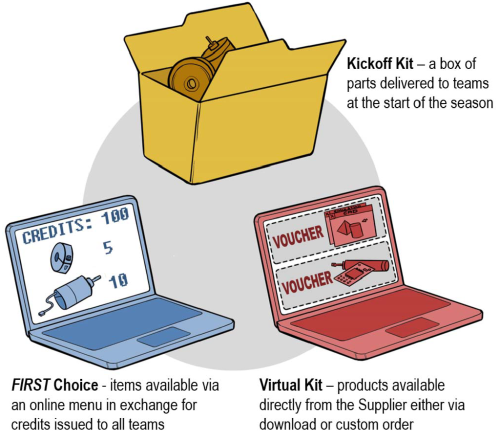 Kit of Parts Timeline: 2020 Season

Key KOP Deadlines
All deadlines are noon, Eastern.
---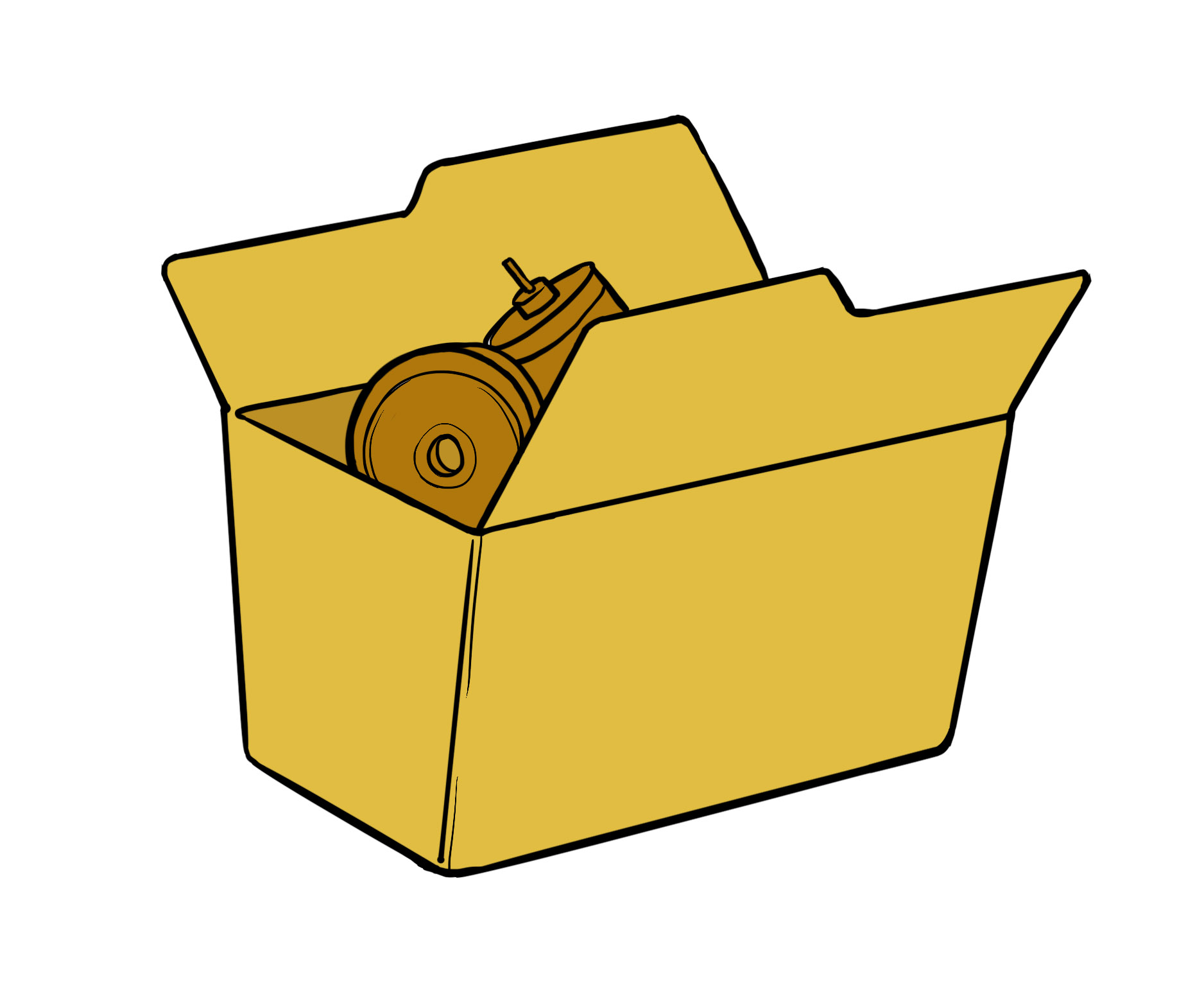 Kickoff Kit Detail
A box of parts delivered to teams at the start of the season...
The Kickoff Kit consists of items that we pack in totes (mostly in totes, there are typically exceptions for late or big items) and distributed to teams on Kickoff at local Kickoff sites (or for those teams that don't make it to a Kickoff, shipped directly to the team at the team's expense, aka MySite shipping).
There are two permutations of this: one set of items that go to all teams and a second set of items that goes to 1st year, aka "rookie," teams.
Drive Base Opt Out
"Event ready" veteran teams are invited to opt-out of the Kickoff Kits' drive base kit and instead receive a voucher to AndyMark. Information is in this FRC blog, instructions are here, and the deadline is Oct. 8, 2019.
Kickoff Kit: Size & Weight
All teams receive a Black Tote (~12 in. x 27 in. x 17 in., ~46 lbs.) and a set of separate items (48 in. long, ~6 lbs.).
New ("rookie") teams also receive a Gray Tote (~12 in. x 27 in. x 17 in., ~49 lbs.).
Teams that did not opt out (described above) also receive a Drive Base Kit (~7 in. x 7 in. x 33 in., ~29 lbs.).
Checklists
(files may download automatically, currently encrypted)
Missing or Damaged Kickoff Kit Items
We strongly recommend that one of the first things you do after Kickoff is to inventory your Kickoff Kit. If anything is missing or damaged 1) we're so sorry! and 2) you need to let us know and we'll make it right.
The process we use to get information from you is built in to the registration system and available from noon (Eastern) on Jan. 4, 2020 to noon (Eastern) on Jan. 10, 2020.
Please know and understand that we will not process requests that don't use this system for teams who received their Kickoff Kits on or before Jan. 9, 2020. (If you're a "MySite" team who received your kit after Jan. 9, 2020, please email us within 2 business days of receipt of your Kickoff Kit with any missing/damaged items.)
To report anything missing or damaged:
Your Lead Coach/Mentor 1 or 2 logs in to your team's account.
Click on the "Payments and Product" drop down menu and select "Order Replacement Parts"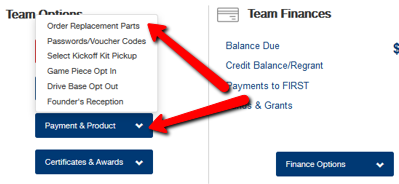 Enter the shipping information for where you'd like the replacement parts sent.
Use the "Subkit Container" filter to navigate to the parts you need to report.
Click the "Add" button for the item that's missing/damaged.
Specify the quantity missing/damaged, include an explanation, and click "Save." The list will auto save when you add an item, so you can come back to it later.
Once your list is complete, hit "Submit Request." You can only submit once, and you must Submit before noon (Eastern), Jan. 11 10, 2020 for your request to be processed. (date corrected 1/6/20)
---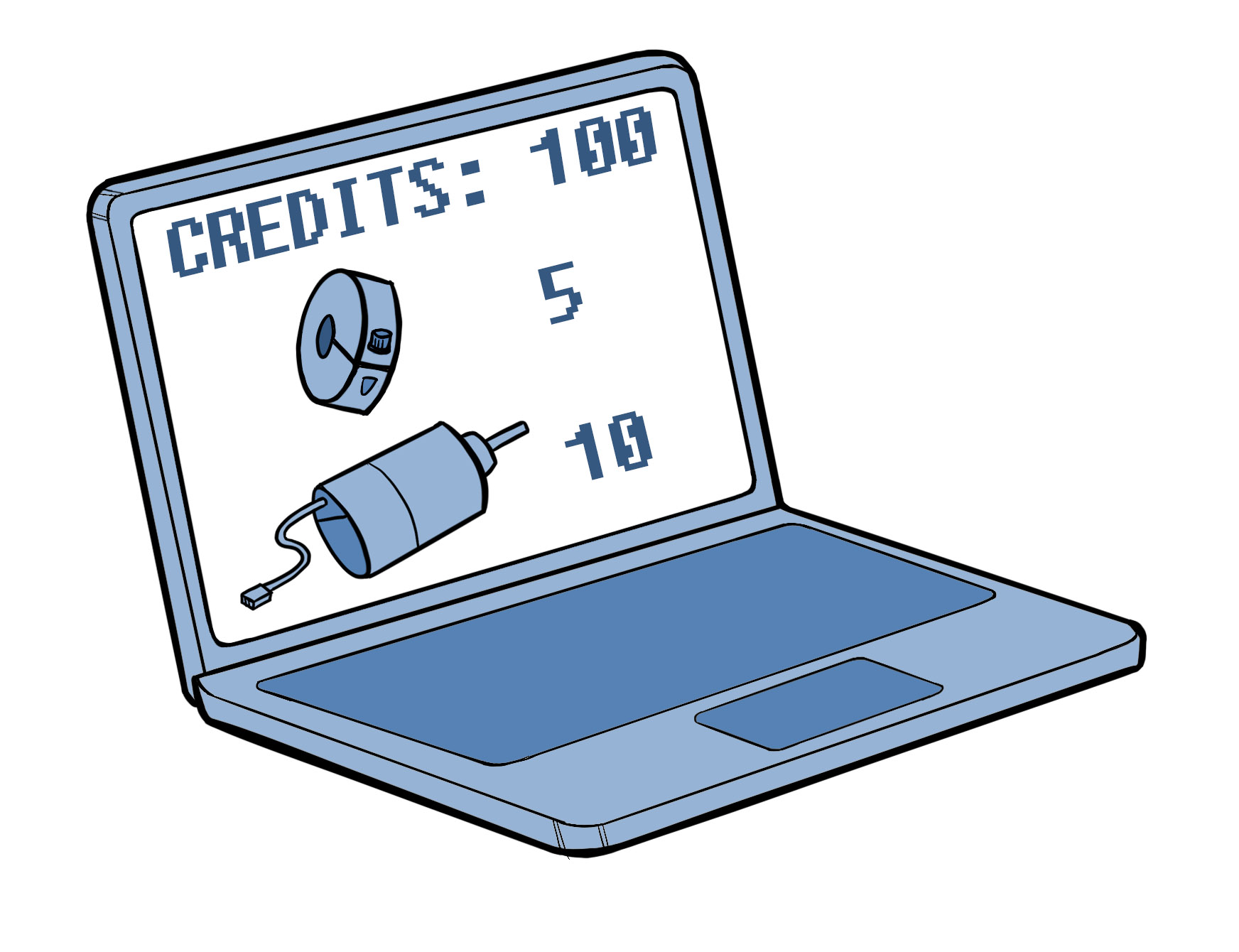 FIRST Choice Detail
Items available via an online menu in exchange for credits issued to all teams...
Teams get items from FIRST Choice using either the Priority List system in Rounds 1 and 2 or via a traditional "open" ordering process.
Key dates are listed in the timeline above and embedded in the flowchart below.
FIRST Choice Flowchart: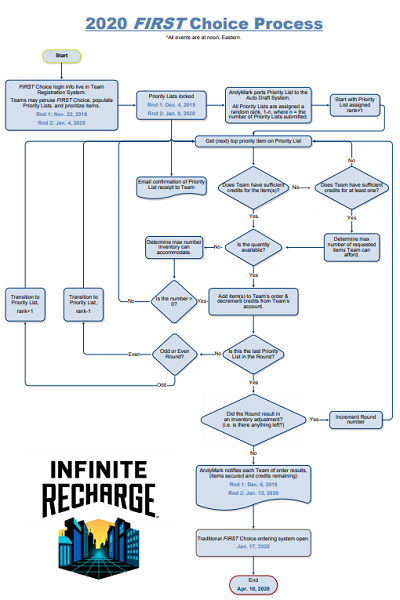 Priority Lists
FIRST and AndyMark use a prioirty list system, similar to the event preferencing system, to invite teams to indicate what they'd like and distribute items in a way that doesn't result in a mad cyber rush to get to high value inventory that a typical first-come, first-serve model does.
Here's how it works:
Each team makes a list & updates shipping detail. A team creates a Priority List (a prioritized list of FIRST Choice items that a team would like) in their FIRST Choice account, and the lists are locked at a specific time/date (see timeline above). Shipping charges will apply (details to be posted on the FIRST Choice site before Priority Lists are locked), and a billing address, a shipping address, and credit card information must be provided before creating your Priority List. Additional charges may apply for international teams, for which the team is responsible, and AndyMark will address on a case by case basis.

Login information for the FIRST Choice site will be posted in each team's registration account when Round 1 opens and will be viewable by lead mentors 1 and 2.
Only event-registered or secured FIRST Robotics Competition teams will have access to their login information, and thus only event-registered teams will be able to create and submit a Priority List.
Priority Lists will be created using (and only accepted via) the Priority List feature on the FIRST Choice site.
Priority Lists are saved each time the user clicks "Update," letting teams add, subtract, and re-prioritize items until the deadline.
Upon the deadline, any existing Priority Lists are locked, processed, and no additional changes may be made (we strongly encourage you complete your list at least a day before the due date to avoid unexpected delays or surprises).
If you feel overwhelmed by the options, there are sample lists like "pneumatics" or "vision" available for quick selection. You can select a sample list for your priority list – or use it to get started and edit/customize as you see fit. Caution though, when you select one it will wipe an existing list and start fresh.
Any priority list submitted by a team that has not secured first-event registration payment with FIRST by noon (eastern time), Dec. 4, 2020 2019 will be discarded before lists are ported in to the auto draft system (please anticipate at least one business day for registration payment to be processed and the updated status to be relayed to AndyMark).

AndyMark randomly ranks lists. After lists are locked, each list with at least one item is assigned a random rank (the order in which individual teams complete their Priority Lists before the deadline does not affect their rank).
Items are assigned. In rank order, AndyMark's auto draft system queries the team's highest priority item and, provided the team has the credits and FIRST Choice has the inventory, issue the item to the team. This applies to each Priority List line item as ranked. If the team doesn't have enough Credits to cover the entire amount (but at least one) or FIRST Choice inventory doesn't have the entire quantity (but at least one), the team will get as many as their credits/FIRST Choice inventory allow. If credits or inventory can't cover one, it will move on to the next ranked item so the team is not skipped for that round. Once the draft system gets to the last ranked Priority List, the draft system will query that last Priority List's next item and work its way back up the ranks (for Teams that know how we've done Alliance Selection in the past, this serpentine process probably seems familiar). This draft continues until inventory's gone or Priority Lists are exhausted. Inventory is then updated for the next phase of FIRST Choice. We will not publicly publish teams' Priority Lists, the assigned rankings, or final order contents.
AndyMark ships your order!
Open Ordering
The open ordering phase of FIRST Choice is a traditional first-come, first-serve ordering process. Teams add items to their carts and check-out using credits remaining after the priority list phases.
Still not sure how this all looks? Hopefully How to FIRST Choice can help...
---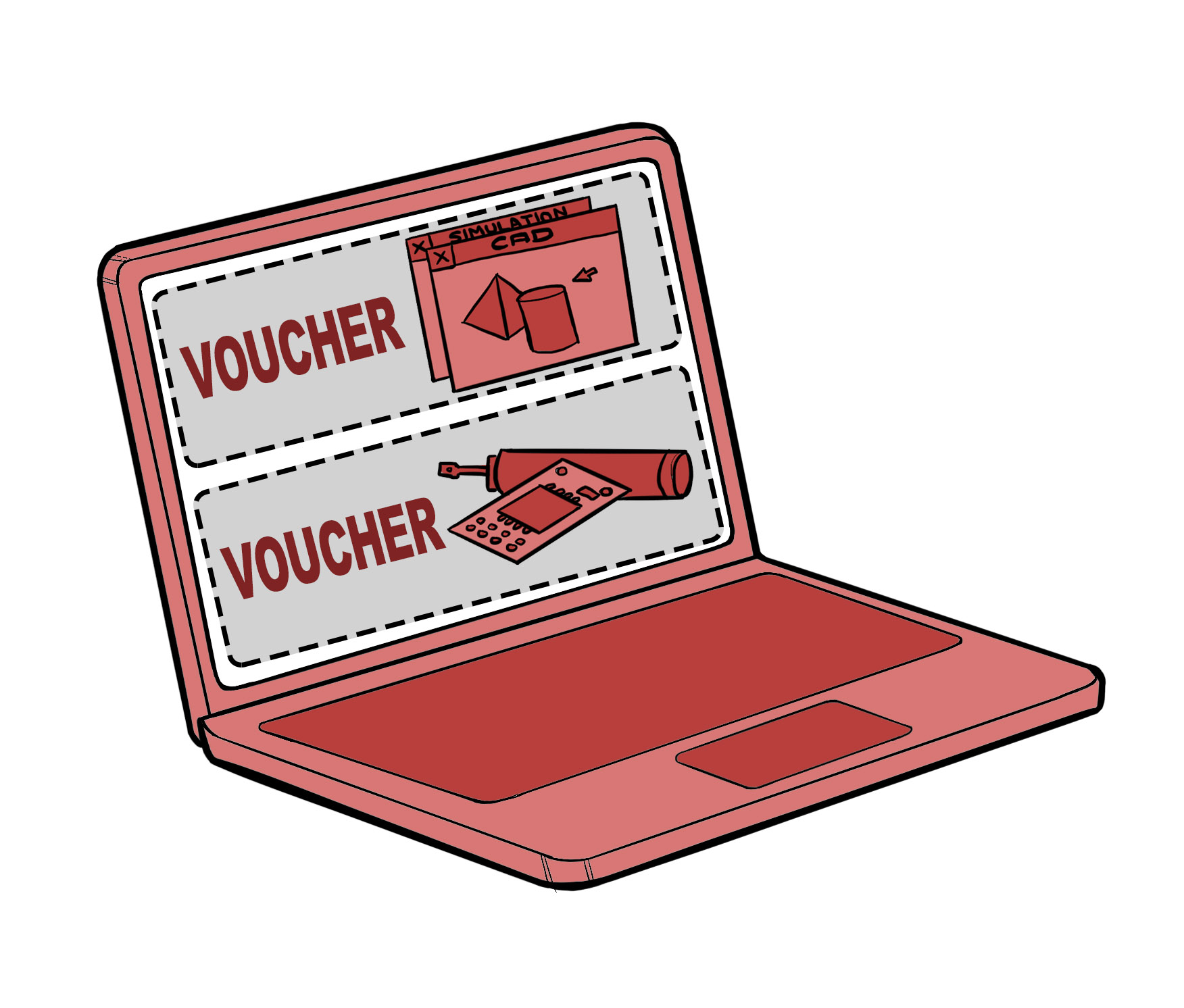 Virtual Kit Detail
Products available directly from the Supplier either via download or direct order...
Items added at Kickoff indicated with *
Product Donation Vouchers
Software
Virtual Kit Item Details
Altium
Altium Designer is a PCB development platform with tools to bring a PCB design from concept to manufacturing
License to be shared among up to five students
Amazon Web Services
Armabot
Autodesk
AutomationDirect.com
Clippard
Digi-Key Electronics
DriveWorks Ltd
Inventables
Mastercam
NI
PTC
REV Robotics
Siemens
SolidProfessor
SOLIDWORKS
Swyft Robotics
TE Connectivity