2019 Event Data on FRC-Events
Aug 29, 2018
Written by Alex Herreid, Software Engineer, FIRST Robotics Competition.
Hello FIRST fans! I wanted to let you know that starting today, you can view information about the 2019 FIRST Robotics Competition regional, district and Championship events through our online information and results portal found at https://frc-events.firstinspires.org/ (or via the shortlink http://frc.events) as well as our APIs. If you haven't already heard, first event registration for the 2019 season is coming up soon - opening on September 20, 2018. We hope you'll find this FRC-events data useful as you determine where you'd like to play this season. We've also created a couple of pages that can provide valuable information to aide you in selecting events.
The first page, which we introduced last season, is the all events listing (found here: https://frc-events.firstinspires.org/2019/events). This page will give you an overview of all official FIRST Robotics Competition events in the selected season, and you can sort them by clicking the desired column header (or holding shift and clicking multiple headers to refine your sort). You'll be able to get an idea of the approximate capacity of the event, and you can also click "Show Event Details" on this page to see the exact dates and event location.
The second page, which is brand new for this season, is the event listing by district. You can access these pages by heading over to https://frc-events.firstinspires.org/2019/districts and selecting your district, then the "events" tab. This tab will list all events within the district, and you can click on an individual event to view more specific details (or the city/state to see where that event falls on the map).
New for 2019 as well, not only can you view the event list for a particular district, but you can view all of the district ranking data from within the FRC-events website. Once you pick your district from the previously mentioned link, the "District Rankings" tab will show you the full district rankings detail for the selected season. Remember the district rankings website that we've used for the past several years? It will soon be phased out and all its data, including historical data back to 2015, is now visible in the FRC-events pages and in our APIs! We think this will provide you with a one-stop-shop for your match and event results in 2019.
Please keep in mind that the events listed, and their dates/locations, may still be changing as details of each event are finalized. Also, there's dozens more events that will be appearing in the coming days and weeks so be sure to check back regularly. Additionally, teams only show on FRC-events once they have one or more event registrations, so there won't be any teams listed at this time.
And don't forget about our live video experience available during the season as well. You can find it on our webcast landing page at https://frc-events.firstinspires.org/watch (or via the shortlink http://frc.watch). Once our 2019 webcasting schedule is available, that page will also show which events we will be covering on our 2019 tour. For events with FIRST Webcast Units, who will show on this webcast page, we also post match videos to our YouTube channel and embed them in the FRC-events pages as they happen. Just look for the video icon (such as the photo below) on the Qualification/Playoff match results pages to indicate that we have match footage available. The FIRST Championship matches are also included in this process, so you can find your favorite POWER UP matches whenever you wish.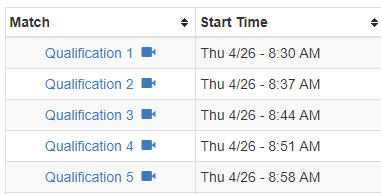 Even though our events homepage may have changed over to 2019, have no fear! All data from FIRST POWER UP (and all seasons back to 2006) is still available, including district ranking data back to 2015. Just use the "Switch Seasons" option on the FRC-events homepage to access a previous season. Additionally, we will continue to offer the ability for POWER UP Off-Season events to sync their data with us so that your match results can show on our services in real-time. You can learn more about the availability of our sync product on this screensteps link. And if you're thinking about developing an application for the upcoming season, you can read through our API documentation and examples here, and join our TeamForge project to receive a key or ask questions.
As always, all our FRC-events webpages are designed to be cross-browser and mobile compatible- even our live video experience is ready for your cell phone while you're on the go. Don't forget to bookmark the pages and you'll be all set to get on-the-go event results when the competitions start. We also encourage you to share the link for the events website (https://frc-events.firstinspires.org) with your friends and family, so they can track your team's progress through the season as well. We're always looking for ways to improve your experience with our products, and we welcome feedback at frcteamadvocate@firstinspires.org for our future planning!
Best of luck this season, see you on the road!