FIRST Robotics Competition Blog
Houston Wrap-Up and Detroit Preview
Apr 22, 2019
Written by Frank Merrick.
Congratulations to the FIRST Robotics Competition Chairman's Award Winner in Houston, Team 1902, Exploding Bacon, from Orlando, Florida, USA!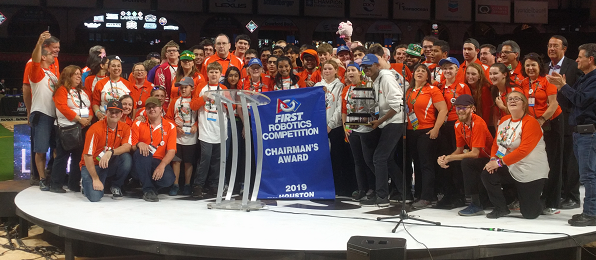 This team is wonderful. They started out as Rookie All-Stars in 2006 and have racked up dozens of awards and accolades since, including an amazing seven Chairman's Awards. They were even Chairman's Award Finalists in 2017. Congratulations to a great team!
Congratulations also to our Chairman's Award Finalists, two other terrific teams:
Team 2682, Boneyard Robotics, Winterville, North Carolina, USA, and
Team 3646, Integra Bahcesehir, Istanbul, Turkey
And additional congratulations to the teams on our winning alliance at the event:
Team 973, Greybots, Atascadero, California, USA
Team 1323, MadTown Robotics, Madera, California, USA
Team 5026, Iron Panthers, Burlingame, California, USA
Team 4201, The Vitruvian Bots, El Segundo, California, USA
And yet another congratulations to our FIRST Robotics Competition Volunteer of the Year Award winner, Terrell Burch!
Detroit
As awesome as Houston was, we're winding up to do it all over again in Detroit. Fields are already being set up and other preparations are well underway for another massive party.
And just as we did in Houston, we've got wall to wall coverage on FIRSTtv. Check out all the details here.
I can't wait to get this party going!
Frank