FIRST Robotics Competition Blog
Woodie Flowers
Oct 23, 2019
Written by Frank Merrick.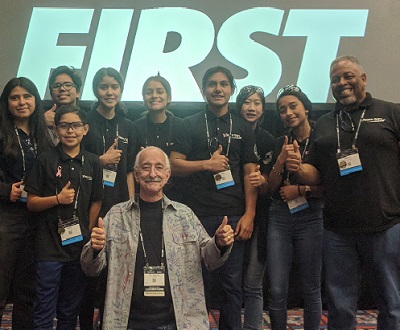 I remember when I met Woodie for the first time. I had been employed by FIRST for only a few months. Having mentored a FIRST Robotics Competition team before I joined FIRST as an employee, I had known of Woodie but had never met him. I was at work on a Saturday morning for a game design meeting, on the first floor, getting ready to take the elevator up. No one else was around. I pushed the button, and suddenly Woodie came around the corner. I instantly got nervous – this was Woodie Flowers – hesitated a moment, then introduced myself. And of course, he was kind and smart and gracious and radiated calm energy. He was all the good things in one person.
Woodie and his wife Margaret often attended the FIRST Holiday parties. A few years ago, I was leaving the party just shortly after they did. They were walking into the parking lot as I was and were maybe a dozen steps ahead of me. No one else was around. Woodie reached over and took Margaret's hand, and they completed the walk to their vehicle hand-in-hand. This was a simple act of genuine affection between two people who had loved each other for decades. Woodie's humanity shone even when there was no spotlight on him.
In 2013, Woodie and I stood field-side together at an event for a few matches of Ultimate Ascent. One team had a particularly unique mechanism they were attempting to use to score frisbees. I pointed it out to Woodie and added: "I haven't seen it work yet." Woodie said, "I bet they haven't either." Woodie was always gracious, but he was also always honest and did not shy away from giving a genuine assessment of a situation, sometimes in a way only Woodie could.
Last year I attended an educational conference in Atlanta. Woodie was there as well, as an invited speaker. We were chatting near the FIRST booth at the conference – I don't recall the exact topic – when the conversation paused and he asked me "Do you have a 10?" For a split second, I started reaching for my wallet. If Woodie Flowers needed a $10 bill, I was giving him a $10 bill, no questions asked. When he was part of FRC game design, if he had told me the process required him to have a pickaxe, a bouquet of petunias, and a potbellied pig, I would have gotten him two of each to make sure he had spares. It turns out he meant "Do you have an iPhone 10?" After he asked the question, he immediately pulled out his phone - luckily before I pulled out my wallet - and showed me a neat trick it could do. He took an almost childlike delight in technology sometimes. Some might say my gut-level response to his question suggests hero worship. Yep. Woodie was my hero.
I spoke to Woodie for the last time on the phone about a month before his passing. He was at home making breakfast. We spent a very few minutes talking about his health, but most of our discussion was about important cultural issues involving FIRST. "Good stuff" as Woodie would say. Knowing now that conversation would be my last ever with Woodie, do I wish it had gone differently? Honestly, I don't think so, and I would bet Woodie would feel the same. We were talking about important things that went to the heart of FIRST, and, hopefully needless to say, the topic of robots never came up.
Woodie was far more than just a great man. He was a good man. FIRST has lost much with his passing. I believe it will take the efforts of all of us to keep our culture of Gracious Professionalism a vibrant part of FIRST. Woodie used to say that Gracious Professionalism meant, in part, acting in a way that would make your grandmother proud. Now I think we can say Gracious Professionalism is acting in a way that would make Woodie proud.
Frank