Celebrating LGBTQ+ Pride Month!
Jun 01, 2021
By Dr. Janell N. Catlin, Director of Equity, Diversity & Inclusion, FIRST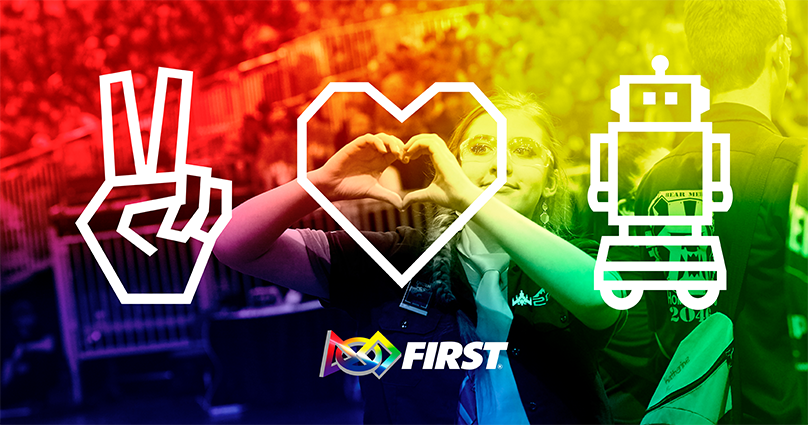 We are proud to recognize Pride Month and celebrate lesbian, gay, bisexual, transgender and queer (LGBTQ+) people and allies as part of our effort to build a community with equity, diversity and inclusion at its core. Our commitment to embodying inclusion is to ensure that all members of the FIRST community feel a sense of belonging. Achieving this means our organization must be supportive and vocal about welcoming all people in the FIRST community and using our platform to raise awareness and highlight voices during affinity months such as Pride Month.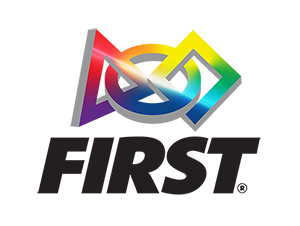 The way I see it, embracing true inclusion is celebrated each day and every month, but in June we pause to take a special focus to acknowledge and voice the importance of inclusion of LGBTQ+ members of the FIRST community. This also includes an emphasis on the importance of allyship; and being a true ally means that we support those that identify as LGBTQ+ both within and outside of the FIRST community.
Throughout Pride Month, we are taking various steps to highlight LGBTQ+ voices within our community. Today, we are thrilled to unveil the Pride Edition of the FIRST logo alongside collaborations with the Human Rights Campaign and LGBTQ+ of FIRST – demonstrating our commitment to LGBTQ+ individuals and creating a more equitable and inclusive community.
Supporting LGBTQ+ Youth
As a youth-serving organization, our commitment to inclusion is in service of helping all young people find belonging and thrive as part of our robotics teams and community. This year, FIRST has joined Project THRIVE, a multi-year, collaborative effort of many national organizations led by the Human Rights Campaign Foundation to create more equitable, inclusive support systems and communities for LGBTQ youth. Each supporting organization is committed to identifying opportunities within their own sphere of influence to increase awareness about and provide resources to address the unmet needs of LGBTQ youth and to highlight best practices and success stories from our respective fields. Project THRIVE will build the skills and capacities of all youth-serving professionals to better meet the needs of LGBTQ young people.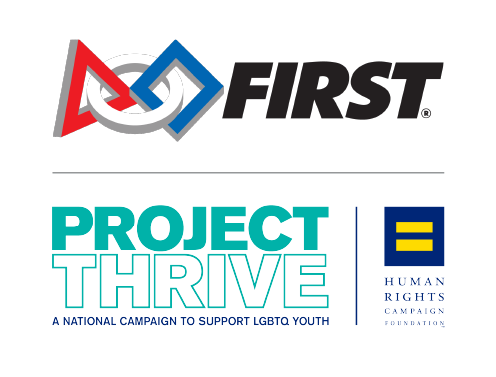 To raise up LGBTQ+ voices all month long, we have partnered with LGBTQ+ of FIRST, a student-led organization dedicated to raising awareness and acceptance of LGBTQ+ participants in FIRST, to share perspectives from LGBTQ+ community members and allies on our Community Blog and social media channels. Personally, I find this truly phenomenal, because during my youth over 25 years ago in the town I went to high school in, my friends who happened to be members of the LGBTQ+ community did not feel welcome to fully be who they were.
There is still so much work to be done in this world to achieve acceptance for all, but I am happy to be a part of FIRST, an organization that welcomes young people to be who they are, unapologetically.
Pride Month Celebrations
This year, we are also celebrating Pride Month through a visible brand commitment, unveiling a FIRST Pride Edition logo for the first time in the organization's 32-year history to be featured on our official FIRST channels throughout June and on the FIRST Pride Collection merchandise in the FIRST Store. I am so excited to wear this new merch to celebrate Pride and inclusivity in STEM. Furthermore, among staff at FIRST headquarters, we are celebrating LGBTQ+ Pride during our monthly ED&I Lunch & Learn series and encouraging wider adoption of sharing pronouns as an important part of inclusion for all.
Our commitment to Equity, Diversity, and Inclusion is evident through our ED&I Statement and FIRST Core Values. However, we know that statements alone are not enough. Help us to celebrate Pride Month by taking action to educate yourself on the importance of inclusion for all. We have developed training modules for volunteers and students, and I encourage you to take this training if you have not done so already. It only takes one person to change someone's life for the better – will that person, be you?
It is Pride Month, so let's take pride in being an inclusive FIRST community. We encourage you to join us in celebrating on social media; follow FIRST on Facebook, Twitter, LinkedIn and Instagram.
Happy Pride!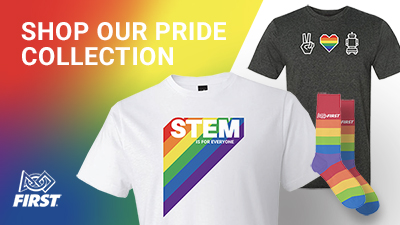 ---
If you have an inspiring story or piece of wisdom that you've picked up through your experiences in the FIRST community, please reach out to us at inspire@firstinspires.org and inquire about becoming a guest contributor for Inspire.