How I Inspire my Students Outside the Classroom
FIRST Community Spotlight: Gail Drake, FIRST Mentor and 2018 Woodie Flowers Award Winner
May 13, 2019
By FIRST Staff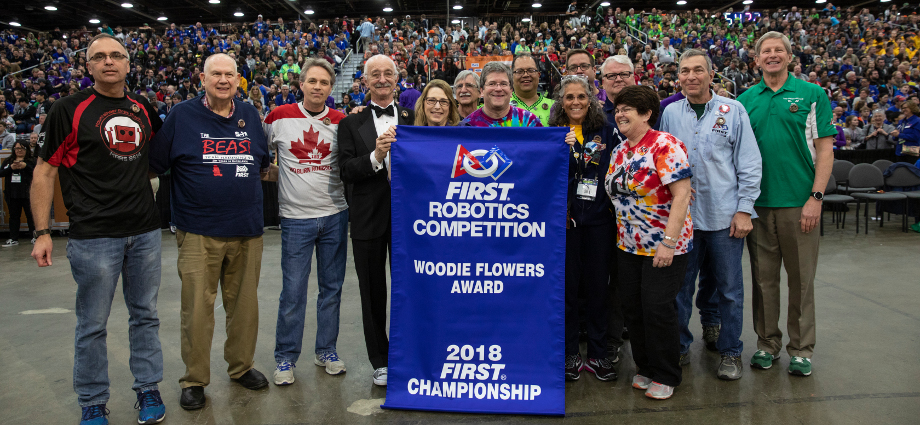 FIRST® Robotics Competition mentor Gail Drake is the head mentor and co-founder of "ILITE Robotics" from Haymarket, Virginia. Among her many roles, she teaches interactive and information technologies at Battlefield High School and was named the Prince William County School's Teacher of the Year. Dedicated to creating student leaders, Drake's passion and enthusiasm led to her being named the 2018 Woodie Flowers Award winner. The award celebrates an outstanding FIRST® mentor who demonstrates excellence in teaching science, math, and creative design. Drake says it is her dream "to inspire kids to be the best that they can be, and to give them that feeling internally."
FIRST: What inspired you to teach STEM subjects?
DRAKE: I started my career in information technology; it was my job to coordinate all of the IT operations for over 650 corporations. I left IT to teach full time at Bentley University, where a colleague and I wrote a federal grant to teach dual enrollment courses – a high school course where students earn college credit. I then went to Battlefield High School in Haymarket, Virginia, to implement the grant. I was supposed to be there for one semester … but I never left.
FIRST: How did you become involved in Battlefield High School's FIRST Robotics Competition team?
DRAKE: In 2005, I was told by the school board that there was this thing called FIRST and, based on my background, I was going to be in charge of it. They gave me the opportunity to say no, but they thought that I would be happy running the FIRST team, and I had an absolute blast.
FIRST: What do you enjoy most about FIRST?
DRAKE: The piece of FIRST that I think is extremely unusual and unbelievably valuable to a high schooler is when you get to see the person who works with their hands and cannot stand the classroom, next to the person who is a mathematician helping you write your code correctly, next to the kid who has his head in his computer and only looks at his own feet, next to the artist who is so unbelievable creative, and they start talking. They start solving a problem, and they recognize the talent that each other brings to the team, and they know that the variety of people is what makes the world work. I love seeing the connections.
FIRST: How has FIRST impacted your community?
DRAKE: Going from university to high school, it bothered me that schools were so sports driven. My goal was to make Battlefield an academic high school where nerds were celebrated and not picked on. I love what my high school is because we were able to build it through the things that FIRST introduced us to. The community went from a typical sports community to one where there is STEM everywhere. I nickname our town "Robotics Town." There are now robotics programs in every school in our county.
FIRST: What advice do you have for mentors and coaches who are interested in starting a team?
DRAKE: Stop and be with the kids. That's where you'll get your energy and rejuvenate. Starting a team will not only change the student's lives, it'll change everybody's life who is involved with the program – every parent, every adult, and your own – in ways you can't even imagine until you're in it. Give it five years because it takes that long to see it all.
Learn more about resources available for educators from FIRST
FIRST has launched the 2019-2020 season,
FIRST® RISESM, powered by Star Wars: Force for Change
---
If you have an inspiring story or piece of wisdom that you've picked up through your experiences in the FIRST community, please reach out to us at inspire@firstinspires.org and inquire about becoming a guest contributor for Inspire.