How our Learning Differences are our Super Powers
Making STEM More Accessible Through Innovation
Jun 18, 2019
By Kenny Bae, FIRST Tech Challenge Coach & Physics Teacher, Wolcott School, Chicago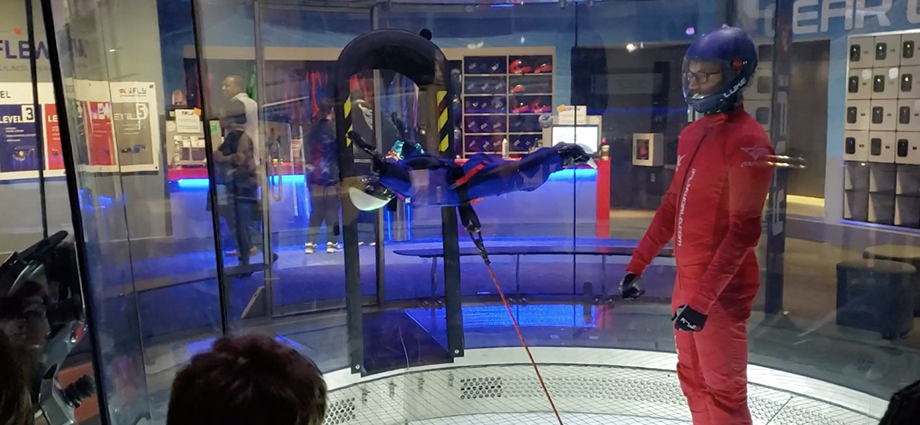 As a teacher and robotics coach, I could not have been prouder of my students when I watched them succeed at FIRST® Championship Detroit in April. No, I wasn't witnessing the team win a robotics match. Instead, my students were giving a conference presentation, titled "Students with Learning Differences Can Succeed in FIRST." They were inspiring an audience of students, parents, and coaches with their experiences and successes of participating in FIRST.
Attending FIRST Championship is about more than having the best robot; it's about making a difference in someone's life and encouraging them, as my students did. In our presentation, we share our learning differences and how we use it as a strength, and we invite the audience to do the same. My students are very creative and imaginative and want to follow the innovative footsteps of FIRST founder and inventor Dean Kamen, who has dyslexia. It hasn't always been the case, but today, my students are very proud of their learning differences. We were happy to share our success stories within the FIRST community, which celebrated with us. 
Building Our Learning Differences as Strengths
I'm a founding faculty member at Wolcott School, a nonprofit private school in Chicago with a very specific mission to support students with learning differences such as dyslexia, ADHD, and dyscalculia. All our students have IEPs, or Individualized Education Programs, tailored to the strengths and aspirations of each student.
When our students join our school, they've faced many challenges with their education; their confidence is low, and they see their learning differences as a weakness. We change that perspective. Your learning difference is a super power – it's an asset. One of the things I love about our presentation is that it helps our students communicate that and share with the audience. It's a powerful experience for our students to share our stories, where we come from and where we are now, showing our grit, perseverance and hard work. You don't have to be the smartest person in the world or a super excellent engineer; it's about learning and growing and supporting each other and encouraging each other as a team.
When the school was built, we started our FIRST robotics team, "Bionic Wolves," meeting in a closet-sized storage room that could barely fit a table. We didn't have much money or experience. But we knew we had a great group of students that had the will to grow and learn. Every match wasn't perfect. We were in last place many times; that didn't discourage us. We learned from our mistakes and grew.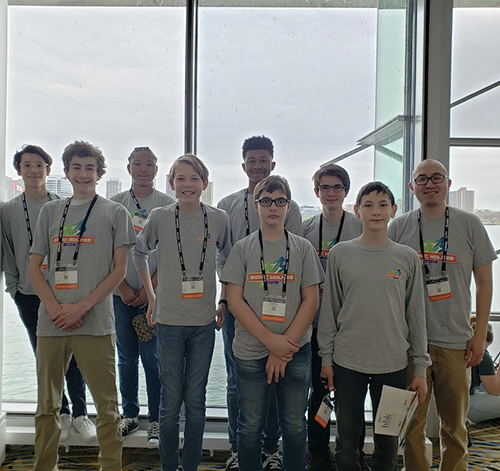 Some of our kids are very passionate and innovative, and their learning differences enable their creativity. We use that as a strength that brings us a unique perspective in how we compete as a team. It's more than robots. it's about our students and their growth and inspiring others in the STEM field.
Six years later, I'm so proud of our team. We made the semi-finals in our FIRST® Tech Challenge Chicago Northern league tournament for the first time. We've been working on innovative projects (more on that below), and we visit a lot of schools, business, and maker spaces to give our presentation. We are sponsored by a lot of companies that support our vision. We especially want to give a special shout out to Inventables and their CEO, Zach Kaplan, for supporting FIRST teams. We're thrilled and happy to be a part of the FIRST community, with the philosophy of Gracious Professionalism® and how it resonates throughout the competition. It's not just every team for itself; we help others and people help us.
Making STEM More Accessible Through Innovation
Inspired by Dean and FIRST, our team pursues innovative projects with the goal of making STEM more accessible to all students. One of our super powers is the unique perspective we bring to solving challenges.
When our school received a National Science Foundation grant to help create and modify computer science curriculum for students with learning differences, some of our robotics members participated in that research. We had an idea to create a cost-effective way to help teach kids how to code without using a computer, so it's more accessible and hands on. we took color-coded blocks that represent code on the computer screen and 3-D printed those blocks with recycled plastic. We made curriculum and went to different schools to teach children how to code. We worked with a Chicago nonprofit that supports students who are visually impaired to make another version using braille. We received the FIRST Tech Challenge Connect Award for our work, and even got a recognition phone call from many tech leaders from fortune 500 companies.
In January, we started a new project with the mission to fulfill the dream of flight for all students in STEM. We are very excited about leading a grassroots effort to organize an offseason indoor skydiving robotics competition with FIRST teams in Chicago through iFLY. This opportunity allows our students to learn more about aerodynamics, aerospace engineering and bioengineering. With the support of iFLY Chicago manager Daniel Addis, we had the idea of creating a robot to fly in the wind tunnel. We prototyped a humanoid robot built with a repurposed FIRST Tech Challenge kit inside a flight suit-wearing plastic mannequin to prevent damage.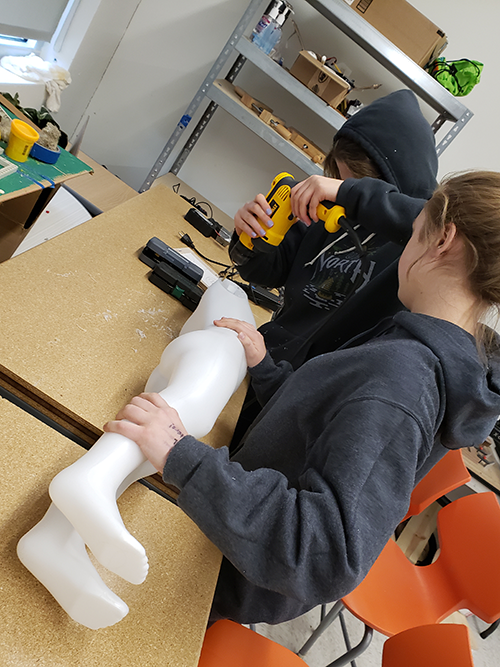 Our team conducted wind tunnel tests with our robot. What I loved about the process was the communication between flight instructors and students. They talked to each other about what the body needed to do to perform certain movements in the tunnel, and how to apply that to the humanoid robot. Ultimately, we would love to see a robot perform advanced freestyle tricks inside the wind tunnel that can compete against human championship skydivers. There are many people excited about our project including our families, friends, NASA engineers, tech leaders, STEM teachers and students.
Our indoor skydiving robots has been shared with summer STEM camps at local schools, museums and after school programs. As a result, our team was able to earn financial support during our offseason. We are just getting started and we envision a line of innovative robots that can fly inside the wind tunnels. At the same time, we are supporting FIRST teams with summer opportunities by using their pre-existing equipment and their abilities. This is a win-win opportunity for FIRST teams to raise money for themselves and to provide students a unique experience to learn about indoor skydiving robots over the summer.
Leaving as a Better Person
I have this message on our classroom door that says, "Leave as a better person." Life is not about perfection; it's about progression – meaning you strive to get better and to constantly improve. That's the philosophy I communicate to my students and to myself as a coach. I am not a perfect coach and don't claim to be. We're going to work as a team together and we're going to strive to learn one new thing at a time.
I get excited when my students get excited. Their excitement might not be for a trophy but a small milestone – that gives me fulfillment. When students feel successful or more confident, I can say I made a difference. I had a female student who never used a drill before and now she can use the drill. She talks about it to other people, "Mr. Bae showed me how to use a drill," and she's really proud of herself. Those are the moments I celebrate.
When we have exit interviews when students graduate, I think about where they started. It's like our team. When I think back to our small room, we started with nothing - two hand tools, a small budget – but we had a big vision, and here we are today. I think about the progress we've made and small successes along the way. As another classroom poster reads, "A thousand-mile journey begins with a single step." I'm thankful to be a part of our students' journey.
Find more resources for FIRST educators:
Kenny Bae is a physics teacher and coach of FIRST Tech Challenge team "Bionic Wolves" at Wolcott School in Chicago. Kenny Bae received his Bachelor of Science degree in physics, radiation and applied physics with a math minor from Eastern Illinois University, and a Master of Science degree in atmospheric science from the University of Illinois Urbana-Champaign, defending his research on the "Measurement of Small Ice Crystals in Arctic Cirrus."
 
---
If you have an inspiring story or piece of wisdom that you've picked up through your experiences in the FIRST community, please reach out to us at inspire@firstinspires.org and inquire about becoming a guest contributor for Inspire.