Overcoming the STEM Opportunity Gap
Feb 20, 2018
By Donald E. Bossi, President of FIRST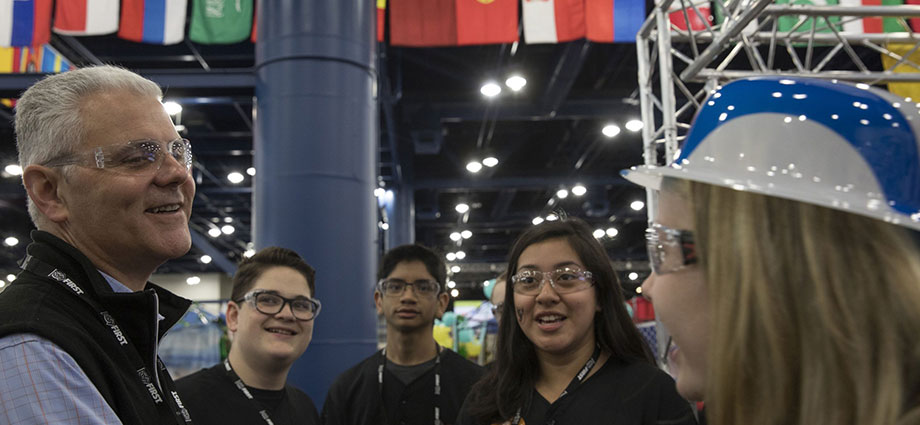 Editor's Note: This article was originally published in Diversity in STEAM magazine.
Our communities – and our classrooms – are more diverse than ever before. In fact, Generation Z and Millennials, who make up nearly half (48 percent) of the United States' population, are more multicultural in their race and ethnic compositions than previous generations. As demographics continue to shift, so does the opportunity to build a uniquely diverse and innovative workforce – one that can truly address the challenges facing today's world. However, for this to happen, the faces in the professional pipeline must change and mirror those of our schools and neighborhoods.
As educators, parents, and business leaders, we have a responsibility to offer all students – especially those who are underserved and underrepresented in STEM – equitable opportunities and pathways to success as contributing members of the workforce. It's no secret that employers are looking for young talent with STEM skills and digital literacy. Moving forward, nearly every career – whether in product development, manufacturing, marketing, or the arts – will be more reliant on tech skills. By 2021, 69 percent of U.S. executives expect to choose job candidates with data science skills over those without. The students best prepared to fill these roles and find success after graduating high school will be those who experience meaningful STEM engagement opportunities throughout their K-12 years.
The foundation of any prosperous society lies in providing accessible advancement opportunities for its citizens. For today's students, hurdles abound, whether financial, cultural, or geographic. Our responsibility is to ensure all kids have access to the tools they need to secure sustainable, living-wage jobs. Critical to accomplishing this is early exposure to high-quality, hands-on, STEM learning experiences that engage and inspire students. An example of where this type of early exposure is already being offered and is making an impact can be seen in the efforts of a nonprofit organization that I lead called FIRST. FIRST offers a progression of programs beginning at age 6 and continuing through high school that engages kids in a series of mentor-guided robotics competitions and innovation challenges, connecting STEM learning to exciting, real-world activities. In addition to STEM exposure, students in FIRST programs meet mentor role models and learn about innovation, entrepreneurship, and 21st-century skills like teamwork, collaboration, and critical thinking. Research has shown FIRST programs are game-changers for kids, opening them up to a world of opportunity. Additionally, STEM Equity Community Innovation Grants help make these programs available and accessible to underserved communities and underrepresented students, while committed supporters also make more than $50 million in scholarships available annually to graduating FIRST seniors to pursue higher education.
Schools are also recognizing the value that curriculum and environmental changes can have in making a positive impact on student advancement. Across the country, school systems are working hard to ensure all kids feel welcome, have a voice, and receive an equal shot at finding success. In a model worth emulating, a Ypsilanti, Michigan-based school with a large population of underserved students created STEM-centric programs based on the concept and ethos of FIRST. Since making this format change, the school's graduation rate has jumped from 69 percent to 97 percent. Daily attendance is up from 84 percent to 92 percent, and suspensions have plummeted from 35 percent to the low single digits. At Ypsilanti STEMM Middle College, the STEM-focused curriculum is making tangible differences in the lives of students. One young man overcame a troubled home life to become valedictorian of his class, while another student, dealing with the emotional ramifications of her mother being deported, found a place to explore her interest in science. Thanks to the school's changes and new concentration on STEM, students can pursue their passions in an affirming environment and gain the skills they'll need in the modern workforce.
The responsibility to empower students from diverse backgrounds to succeed doesn't rest solely on nonprofits and schools; it also falls on companies. As a management consulting firm, Booz Allen Hamilton understands this, having recently refreshed its values to include "Collective Ingenuity" or the ability to harness the power of diversity. Booz Allen Hamilton reflects Collective Ingenuity in its hiring practices, its community-support efforts – including supporting many FIRST teams – and how it approaches client challenges. They and other companies have a critical role to play in bolstering diversity in STEM, whether by providing scholarships to underserved and underrepresented students, offering relatable mentors for female and minority students, or awarding internships to students who otherwise wouldn't have those prospects. They realize we shouldn't be leaving talent on the table and are taking the necessary steps to ensure we don't.
Together, businesspeople, educators, and nonprofit leaders can ensure we aren't ignoring the potential of our diverse student population when it comes to STEM outcomes. That starts with investing in your community: Get to know the young faces in your local schools and neighborhoods. Find out what they need for success, and connect them with resources and youth-serving programs – like FIRST – that can help them get there. We need kids of all backgrounds, capabilities, and social circumstances to contribute and participate in addressing the world's toughest challenges. With equitable access to opportunity, relevant mentorship, and engagement, any student can build a foundation for a bright future.
---
If you have an inspiring story or piece of wisdom that you've picked up through your experiences in the FIRST community, please reach out to us at inspire@firstinspires.org and inquire about becoming a guest contributor for Inspire.