Sparking Ideas: Inspiring Kids to Innovate
Mar 29, 2017
By Ashton Cofer

Editor's Note: Ashton Cofer is a ninth-grade student in Columbus, Ohio. Ashton and his FIRST® LEGO® League team, The Incredibots, won the 2016 FIRST LEGO League Global Innovation Award, presented by XPRIZE, for developing a process to convert Styrofoam waste into activated carbon, which can be used to purify water. In December, Ashton recorded a TED-Ed Talk about his experience. Here, he writes about what inspires him and his teammates to innovate.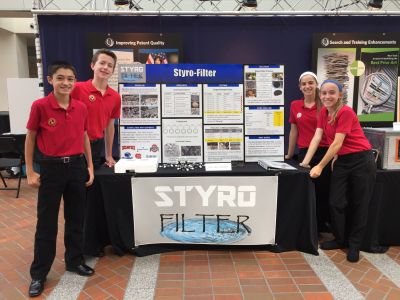 Fast moving conveyor belts flew by me in all directions. Plastic bottles jumped like jellybeans into different chutes while workers quickly sorted paper boxes with incredible accuracy. I was mesmerized by all the unique and complex mechanisms sorting the recycled materials that every American throws in the recycling bin.
This was a typical way that my FIRST LEGO League team, The Incredibots, started every season. Since the theme that year was centered around trash, we were visiting the Rumpke Recycling plant. We were overwhelmed and extremely inspired by the things we saw. For example, we were able to see some of the tools that the recycling plant uses to sort materials. It helped us in brainstorming new solutions to make this process even better!
I have been involved with FIRST LEGO League for over five years as a team member, and for four years before that as an honorary "mascot" with my older sister's team. My team has participated in several international competitions, and I have met students and Mentors from all over the world. Over the years, one question I've heard again and again is about how to get kids inspired to innovate. For students today who are lucky enough to live in parts of the world where their lives are comfortably structured, and who worry little about basic needs – proactive innovation can be pretty hard to come by.
It's become clear to me that inspiration comes from stepping out of your comfort zone and taking a trip outside of your normal life. As mentioned, my FIRST LEGO League team would go on a field trip before each season that focused around that year's project theme. For the Senior Solutions℠ Challenge, we went to the local Veterans Administration hospital prosthetics lab and were inspired to help the two-thirds of veterans who suffer from essential hand tremors. Another year we visited a local beverage manufacturing company and saw autonomous robots that transported large cases of beverage containers. This inspired us to try to engineer our robot to be just as robust and reliable.
For the 2015-2016 TRASH TREK℠ Challenge, my team visited the local waste recycling facility. During our visit, we learned that there weren't any ways to recycle Styrofoam, and we decided to try to come up with an idea to solve this problem. Our solution was the award-winning, patent-pending Styro-Filter, which successfully converted Styrofoam waste into activated carbon that can be used to purify water.
These experiences have shown me that in order for both kids and adults to gain inspiration to innovate something, they have to go out of their ordinary lives to experience something new. This allows us to see life and its challenges from a different perspective.
In addition, I've learned that you gain knowledge by asking questions and not being afraid of what other people might think. Some of the questions my team asked: Is there a way to cure hand tremors? Why isn't Styrofoam recycled? Since there weren't clear, definitive answers to these questions, my team was inspired to research them further and innovate solutions.
But before we even knew what to research, the first step was to get out of the classroom and explore something new. I encourage all Mentors, Coaches, and educators to help their students seek opportunities in which they can be inspired.
---
If you have an inspiring story or piece of wisdom that you've picked up through your experiences in the FIRST community, please reach out to us at inspire@firstinspires.org and inquire about becoming a guest contributor for Inspire.