The FIRST LEGO League Global Innovation Award is designed to showcase the real-world, innovative solutions that FIRST LEGO League teams create as a result of their Project.
FIRST LEGO League trains kids to think like innovators. The award encourages and assists teams to further develop solutions to real-world problems that demonstrate originality and have the potential to add significant value to the world.
For many teams, the innovative solutions created through their FIRST LEGO League Project have led to some amazing opportunities, like receiving local and national media attention, meeting government leaders, and seeing their invention be brought to market.
Each year, we induct 20 new Semi-Finalist teams into the Innovation Ambassadors, a group of FIRST LEGO League Global Innovation Award participants who work to keep innovation alive within their own communities. Innovation Ambassador teams are frequently featured on the FIRST LEGO League blog. Check out some of their stories here.
---
How do I participate? Most regions nominate the top-ranked team(s) in the Innovative Solution Award category from their Championship event(s) to be their Global Innovation Award regional nominee. Some regions use an approved alternate process.

The 2019 INTO ORBIT Global Innovation Award was held June 30 - July 2, 2019 in San Jose, CA, USA.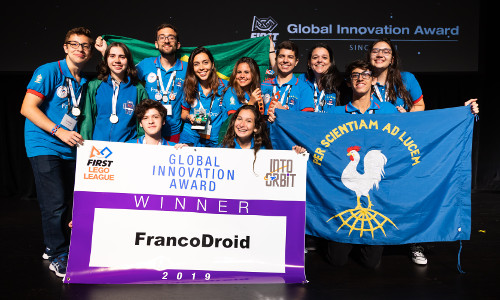 Congratulations to FrancoDroid from Brazil, our 2019 Global Innovation Award Winner! Click here to learn about all the semi-finalist teams and their innovations.
---