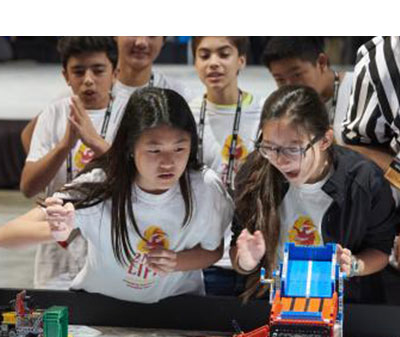 Ignite interest in robotics and STEM! Watch the thrill of learning through hands-on discovery with FIRST® LEGO® League.

FIRST® LEGO® League, one of four STEM-learning programs from FIRST®, immerses kids in real-world science and technology challenges. Teams of kids ages 9 to 14* are challenged to design their own solution to current scientific problems, then build LEGO® robots that perform autonomous "missions." In the process, they develop valuable life skills and discover exciting career possibilities in science and technology. They even discover that they, too, can make positive contributions to society.
*Ages vary by country
---
Coming August 2017:

On your mark, get set, flow! Drink in the 2017/2018 HYDRO DYNAMICSSM season and learn all about water – how we find, transport, use, or dispose of it. In the 2017/2018 FIRST® LEGO® League Challenge, students age 9 to 16* from 80 countries will make a splash with HYDRO DYNAMICS. What might become possible when we understand what happens to our water?

FIRST LEGO League challenges kids to think like scientists and engineers. During the HYDRO DYNAMICSSM season, teams will choose and solve a real-world problem in the Project. They will also build, test, and program an autonomous robot using LEGO® MINDSTORMS® technology to solve a set of missions in the Robot Game. Throughout their experience, teams will operate under the FIRST LEGO League signature set of Core Values, celebrating discovery, teamwork, and Gracious Professionalism®.