Back To Search
Helpful Tips for Awards Submissions
Oct. 27 2021

|

0 KB

Content Type: FIRST Robotics Competition

Chairman's Award, Woodie Flowers Award, or Safety Animation
User errors and resolutions:
If the Student Award Submitter receives this message: "This page isn't working my.firstinspires.org redirected you too many times…" (pictured below) while trying to access the award submission through their Dashboard, then their team's Lead Mentors did not electronically assign them as the Student Award Submitter or they are not properly logged into their own account.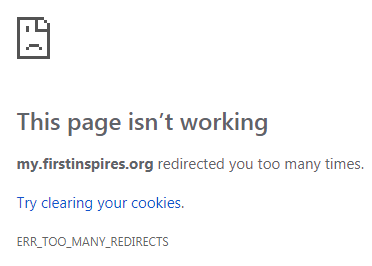 Reason/Resolution:
The Student Award Submitter, must be logged into their youth account. He/she will not have access to the Award Submission portal using their Parent/Guardian's FIRST account.
Helpful tip: As a Student, if the student has never logged into their own FIRST account before or forgot their password, they may request a password reset. Their www.firstinspires.org login is their email address that is listed in their Youth Profile Information.
Reason/Resolution:
If you are the Lead Mentor 1 or Lead Mentor 2 make sure you electronically assigned a Student Award Submitter(s) through the team registration system.
Instructions: To designate students as award submitters, please follow these steps:
Lead Mentor 1 and/or Lead Mentor 2
Log into your account at www.firstinspires.org.
Select the Team you are assigning an award submitter for.
Under the "Team Contacts/Roster" column, click the "Youth Members" link.
Find the youth team member you want to assign as an Award Submitter. Accept the student to your team, if not already accepted.
Check the box next to: "Designated Award Submitter". You may designate up to two (2) students.
Please note, you will not be able to designate students as award submitters if they have not been accepted onto your team.
Dean's List Award may be Submitted through the Lead Mentor 1 or Lead Mentor 2's Dashboard or another Mentor (listed on their team) that is invited as a Dean's List Award Submitter: (Submitter must not be related to the nominee and have a valid Youth Protection Screening on file)
How to submit the Dean's List Award
Log in to your Dashboard at www.firstinspires.org.
Click the "Certificates & Awards" drop down menu located under your "My Teams" tab.
Select "FRC Dean's List Award Submission".
Enter in Nominee(s) information and click SAVE CHANGES.
Nominees submissions will automatically be submitted at 3:00 PM EST on February 18, 2021. You may make edits/changes up until automatic deadline submission
Instructions for Lead Mentor 1 or Lead Mentor 2 to invite a Dean's List Award Submitter (pictured below):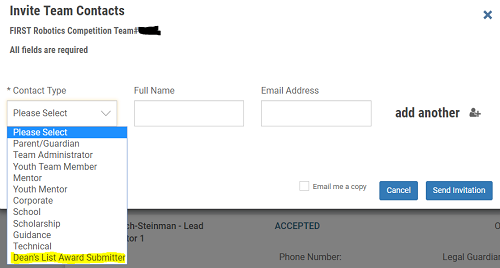 Log in to your Dashboard at www.firstinspires.org.
Click on the blue "Primary Contacts" link located under the Team Contacts/Roster column.
Click "INVITE CONTACTS".
Select Contact type (Dean's List Award Submitter), enter full name and email address.
Click "Send Invitation".
The Mentor would accept their "Dean's List Award Submitter" Invite from their own Dashboard and then follow the Dean's List Submission instructions listed above.
Browsers: Internet Explorer and/or Safari may cause error messages to appear such as run time error, redirect error etc. Our IT department recommends using Chrome or Firefox, if available.
Devices: Mobile Devices and/or Tablets: May not let users click certain buttons or may not save information correctly.
Having multiple tabs or windows open with our website during the submission process may cause "redirect" errors or "bump" (log out) user out.
Resolution: If these errors occur, our IT department recommends users to clear their browser history/cookies/cache, rebooting the browser and then accessing the portal again.