FIRST Robotics Competition Blog
2nd District Event Registration and 2017 Medals
Oct 12, 2016
Written by Frank Merrick.
2nd District Event Registration
As we said yesterday, we've made a change to tomorrow's 2nd District Event Registration. You can see all the details in that blog, but the most significant change is for Michigan and Pacific Northwest (PNW - Washington, Oregon, Alaska) teams:
MICHIGAN and PNW TEAMS: YOUR 2nd DISTRICT EVENT REGISTRATION WILL BE AT 11:00AM EASTERN TIME on THURSDAY, OCTOBER 13th. That's tomorrow!
This is an hour before all other Districts will be registering. We're doing this to reduce system load.
Any information we have to convey during registration itself will be on Facebook and Twitter. You may want to monitor those sites during the registration period for updates.
2017 Medals
And now for something completely different (honestly, I'm getting a little tired of talking about event registration) - check out the new medals for 2017!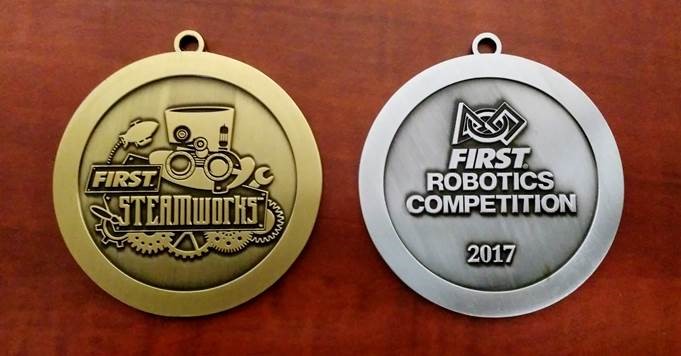 2017 FIRST Robotics Competition Medals. Sweeeeeet.
Frank