FIRST Robotics Competition Blog
Team Avatars – A Reprise
Dec 17, 2018
Written by Danny Diaz, FIRST Robotics Competition Systems Engineer.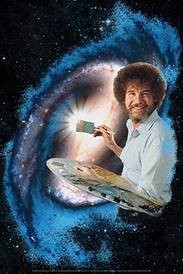 Imagine Astronaut Bob Ross!
If you've ever felt like your dream of being an astronaut and your passion for art and design were in conflict with each other, think again. Since 1965, astronaut crews on each mission have been in charge of designing their team's unique official mission patch – a spaceflight mission emblem worn by personnel affiliated with the mission, usually worn as an embroidered patch on uniforms and apparel. Crew members discuss what shape, colors, and emblems it should have to show why their mission is special. To date, there are more than 150 official mission patches in existence.
For the 2019 FIRST Robotics Competition season, teams will once again be able to submit a Team Avatar to represent their team on the DESTINATION: DEEP SPACE Presented By The Boeing Company Audience Displays and on their online frc-events.firstinspires.org team pages. In DESTINATION: DEEP SPACE, the Avatar will once again be displayed alongside other identifying information for a team to represent themselves in the Alliance – the Avatar is a third means of identifying the team alongside the team's number and nickname. This Avatar can be a team logo, a team Mission Patch image, or an image teams will use to express their team identity.
The Team Avatar is completely optional. There is no element of DESTINATION: DEEP SPACE you won't be able to play if you don't create a Team Avatar. In fact, teams who do not create and submit a Team Avatar will be assigned a default Team Avatar for use at the event. The default Team Avatar is not custom to each team, it's the same for all teams who do not submit a Team Avatar. However, Avatars submitted and used during the 2018 FIRST POWER UP season will not be migrated to this upcoming season; teams will need to resubmit Team Avatars for the 2019 FIRST Robotics Competition season.
Full 2019 Team Avatar specs are provided here, and for further inspiration here's a great list of Avatars submitted last season provided by The Blue Alliance. Once the 2019 Team Avatar submission portal is ready we'll post another Blog entry notifying teams along with instructions on how to submit their Team Avatars. It's important to note that unlike your team's nickname, teams will not be allowed unlimited changes to their Team Avatar. Each time a Team Avatar is submitted, it will be reviewed by a team member on the FIRST Robotics Competition staff – because of this, teams will only be allowed one (1) submission plus one (1) update. Design a Team Avatar that you will be proud of for the entire season!