FIRST Robotics Competition Blog
Prep now so you're ready for Kickoff
Nov 18, 2019
Written by FIRST Staff.
Okay, event selection is over, you know what event(s) you're attending for the 2020 season of INFINITE RECHARGESM. And with more than a month until Kickoff, now is the best time to start prepping and planning for your events so that after the game reveal, you can be all in on measuring, designing, building, pizza, and programming, and pizza… but definitely pizza!
If you're traveling to an event in 2020, now is when you want to start searching for hotel blocks for you and your team. FIRST has created an all new housing and travel webpage so finding hotels is faster and easier.
Events call for long days of intense concentration, energy, heart-pounding thrills, problem-solving, and teamwork. Make sure you have a place to recharge so you have infinite energy on and off the field during your event (game hint? Maybe!). When your team books with FIRST: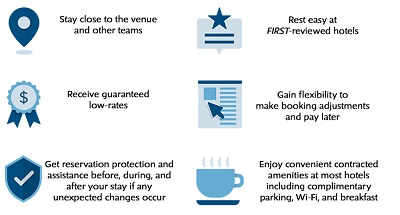 Start searching for event housing now!
Checking out our discounted hotel blocks now allows you to determine the best options for your team, fundraise if necessary, and get your first picks. Most hotel blocks for FIRST events close 2 – 3 weeks prior to the event, and blocks can fill quickly.
Once you book your housing, check these other event prep items off your list while you wait for Kickoff on January 4.
Arrange human & robot transportation
Download the #FIRSTTravelBuddy
Prep your team spirit & promotion (t-shirts, signs, giveaways, cheers)
Prep your pit style (posters, decorations, banners, trophies)
Build a cart for your robot
Pack tools, extra parts, & supplies
Pack safety glasses and a First Aid Kit
Make a list of team contact info and emergency contacts
Plan snacks & drinks so the team is hydrated and energized