FIRST Robotics Competition Blog
Kickoff is almost here!
Dec 30, 2019
Written by Ted Hood, Kit of Parts Engineer.
In just a few days, we will kick off the 2020 season. Things happen quickly so we want to make sure you are prepared.
Here are some dates you don't want to miss!
1/4 – Kickoff:

Kickoff Kits distributed
Encryption key posted
Unencrypted game specific content posted
Replacement parts system opens
FIRST Choice Round 2 begins
New Virtual kit items posted

1/8 – Official Q&A opens (details to be posted shortly after Kickoff)
1/9 – FIRST Choice Round 2 ends, priority lists locked
1/10 – Missing/damaged kickoff kit item replacement parts requests due
1/13 – AndyMark sends Round 2 notification emails
Kickoff Kit – Sizing Info
In addition to finding out 2020 season details on Saturday, each team attending a local Kickoff will also receive this year's Kickoff Kit items. We're giving a deliberately vague "heads up" about the sizes and weights to expect so you can make accommodations to get the goods back to your build space. This information is also now published in the "Kickoff Kit" section of the Kit of Parts page.
Every team will receive a Black Tote (~12 in. x 27 in. x 17 in., ~46 lbs.) and one set of separate items (48 in. long) weighing about 6 lbs.
New ("rookie") teams will also receive a Gray Tote (~12 in. x 27 in. x 17 in., ~49 lbs.)
Teams that did not opt out will also receive a Drive Base Kit (~7 in. x 7 in. x 33 in., ~29 lbs.)
Kickoff Kit - What if something's missing or damaged?
We strongly recommend that one of the first things you do after Kickoff is to inventory your Kickoff Kit. If anything is missing or damaged 1) we're so sorry! and 2) you need to let us know and we'll make it right.
The process we use to get information from you is built in to the registration system and available from noon (Eastern) on 1/4 to noon (Eastern) on 1/10.
Please know and understand that we will not process requests that don't use this system for teams who received their Kickoff Kits on or before 1/10/19. (If you're a "MySite" team who received your kit after 1/10, please email us within 2 business days of receipt of your Kickoff Kit with any missing/damaged items.)
To report anything missing or damaged:
Your Lead Coach/Mentor 1 or 2 logs in to your team's account.
Click on the "Payments and Product" drop down menu and select "Order Replacement Parts"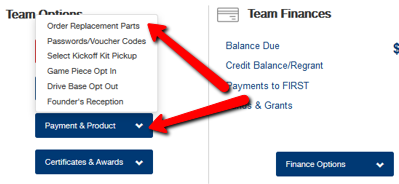 Enter the shipping information for where you'd like the replacement parts sent.
Use the "Subkit Container" filter to navigate to the parts you need to report.
Click the "Add" button for the item that's missing/damaged.
Specify the quantity missing/damaged, include an explanation, and click "Save." The list will auto save when you add an item, so you can come back to it later.
Once your list is complete, hit "Submit Request." You can only submit once, and you must Submit before noon (Eastern), 1/10 for your request to be processed.
FIRST Choice: Round 2
FIRST Choice opens for Round 2 of Priority List orders from 1/4 to 1/9 (noon Eastern, emails with what each team is getting will be sent by AndyMark by the end of the day on 1/13). We'll be employing the same Priority List Process used in Round 1 and issuing additional credits to each team's account. Any unused credits from Round 1 are carried over. Details on all this are in the FIRST Choice section of the Kit of Parts page.
Kickoff Kit Unboxing show
Want a more in-depth look into the kickoff kit? Join me and DeejayKnight this Sunday at 1pm ET on FIRSTtv for a breakdown of this season's kit of parts, as we take a deeper look at nearly 100 resources.
Update on List of Materials for the Team Elements
We sincerely apologize, but we made a mistake in the original post. We have updated the list here!
Good luck this season!
Ted