FIRST Robotics Competition Blog
Paul George
Jan 17, 2020
Written by Frank Merrick.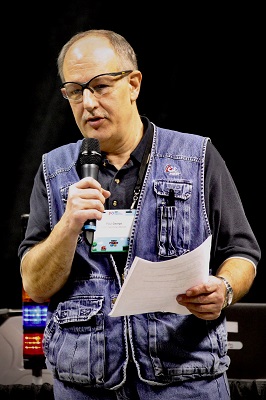 This week, FIRST Robotics Competition lost another great. Wednesday morning Paul George passed away, surrounded by friends and family, after a long illness.
Paul had been a volunteer for FIRST for 25 years, a full quarter of a century. He started his work with FRC as a mentor and over the course of his volunteering career he had also been:
An FTC Mentor
A Scorekeeper
A Field Builder
A Field Reseter
Chair of a Regional Planning Committee
A Referee
A Head Referee
A Robot Inspector
An FTA
and one of our Co-Chief Field Supervisors
Paul did not miss a single FIRST Championship since they started in 1995 with the exception of last year when his illness prevented him from attending.
As a mentor for FRC Team 1038, Lakota Robotics from Liberty Township, OH, USA, Paul was recognized with the Woodie Flowers Finalist Award in 2013. For his many volunteering accomplishments and his dedication to FIRST, Paul was selected as the FIRST Championship FRC Volunteer of the Year in 2015.
Stats, though, don't tell the story of the person. Paul was a caring soul with a gentle sense of humor who made countless friends during his time with FIRST. Teams praised Paul for his fairness and concern in making sure they had the best experience possible at events. And Paul was so revered by his fellow FTAs for his thoughtfulness, even-handedness, and experience that a few years ago they created wrist bands printed with the characters "WWPGD?" (What Would Paul George Do?). These were handed out to all the FTAs at their annual training session. Paul was an FTA's FTA.
Paul has passed, but his legacy lives on in the many he touched and the difference he made.
We'll miss you, Paul.
Frank