FIRST Robotics Competition Blog
Travel Travel Travel
Jan 22, 2020
Written by Frank Merrick.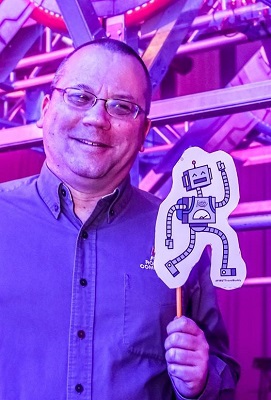 I got my #FIRSTTravelBuddy. Now on to events!
Traveling to FIRST Robotics Competition events can be loads of fun. You get to see new places, make new friends, and strengthen bonds with your current friends. This year, wherever you go (even if it's just to an ordinary team meeting!) please bring your #FIRSTTravelBuddy with you, take some photos, and share. Tweet your photos to @FIRSTTweets with #FIRSTTravelBuddy so everyone can follow your FIRST journey. I'll be bringing mine to Turkey this year. I hope he's got his passport ready!
Click on the button below to get your own #FIRSTTravelBuddy. One was even included in your Kit of Parts this season. And don't be shy about customizing him – I don't know about you, but when I see his left arm raised up like that I IMMEDIATELY imagine a slice of pepperoni pizza in it. Because he's making the same face I do when I'm eating pizza. I may have a small addition to make to this guy.
On the same page that you'll find the #FIRSTTravelBuddy for download, you'll be able to explore housing and travel options to events. Be sure to check them out. We've got hotels for Regionals, District events, and of course FIRST Championship. You'll be staying with other teams and be close to the venue. And who knows? You may just find the ideal hotel that meets all your needs.
Speaking of travel to events! We have some Regionals that have immediate openings for teams. Check them out below! Please keep in mind that due to limited capacity at some events this is on a first come, first served basis. To sign up for one of these events, please contact Team Support via email at firstroboticscompetition@firstinspires.org.
Week 1
Great Northern Regional, Grand Forks, ND, USA
Week 2
Canadian Pacific Regional, Victoria, BC, Canada
Festival de Robotique a Sherbrooke Regional, Sherbrooke, QC, Canada
Istanbul Regional, Bati Atasehir (Istanbul), Turkey
Bosphorus Regional, Bati Atasehir (Istanbul), Turkey
Week 3
Beijing Cultural Exchange Event #1, Xicheng, Beijing, China
Arizona North Regional, Flagstaff, AZ, USA
St. Louis Regional, St. Louis, MO, USA
Oklahoma Regional, Oklahoma City, OK, USA
Southern Cross Regional, Sydney Olympic Park, NSW, Australia
Week 4
Beijing Cultural Exchange Event #2, Xicheng, Beijing, China
Central New York Regional, Utica, NY, USA
Central Illinois Regional, Peoria, IL, USA
Hawaii Regional, Honolulu, HI, USA
Memphis Regional, Collierville, TN, USA
Heartland Regional, Olathe KS, USA
Greater Pittsburgh Regional, California, PA, USA
South Pacific Regional, Sydney Olympic Park, NSW, Australia
Week 5
SBPLI Long Island Regional #1, Hempstead, NY, USA
Sacramento Regional, Davis, CA, USA
Buckeye Regional, Cleveland, OH, USA (2 Open)
Idaho Regional, Nampa ID, USA
Week 6
Canadian Rockies Regional, Calgary, AB, Canada
Rocket City Regional, Huntsville, AL, USA
Festival de Robotique a Montreal Regional, Montreal, QC, Canada (1 Open)