FIRST Robotics Competition Blog
Building a Skill Portfolio from FIRST Robotics Competition Experience
Jul 08, 2021
Written by Libby Simpson, FIRST Director of Education
One of the goals of teaching is to help students transfer their learning and apply their knowledge. In this sense, mentors of FIRST teams are teachers that assist students in applying expertise to guide them to solve the team's challenges. To transfer knowledge, we need to allocate time for them to reflect, connect and contextualize their learning. Students should be engaged in critical reflective practices and construct meaning from their learning experiences. To remember, we must act upon and process the information, synthesizing and evaluating the data. In the end, reflecting also means applying what we have learned to contexts beyond the actual situations in which we learned something.

Reflect on Skill Building
The end of the season or over the summer is a great time to reflect on the various skills that students have developed as part of the role they play on their FIRST Robotics Competition team. By reflecting on the skills built, students can take stock in those skills. Mentors can help students align those skills built to real-world industry-relevant applications. As we know, the ever-changing needs of the workforce demand that we prepare students for the future, and FIRST does this better than any other STEM organization. How can students take skills and validate them so that they transfer them to a career?

Transferable and Portable Skills
Excitement and inquiry about solving problems are at the heart of
FIRST 
- but should we put problem-solving on a resume or job application? Students should because it is the most sought-after skill amongst employers, right along with critical thinking!
Transferable and portable skill records
are an emerging concept as economies and the education landscape are evolving by technology. Students who participate in
FIRST
build valuable work-ready and highly technical skills.  One way to validate that knowledge and skills are through industry certifications.   
Industry certification or industry credentials are recognized verifications of skill or knowledge attainment based on generally accepted skill standards for an occupation. Certifications usually include a combination of an examination, demonstration of skills, and experience requirements.
 FIRST
sponsors and partners can be an excellent source for learning about occupations and their
related certifications
. Many of our sponsors provide pathways for students on
FIRST
teams to earn credentials for free. 

Pathway to Career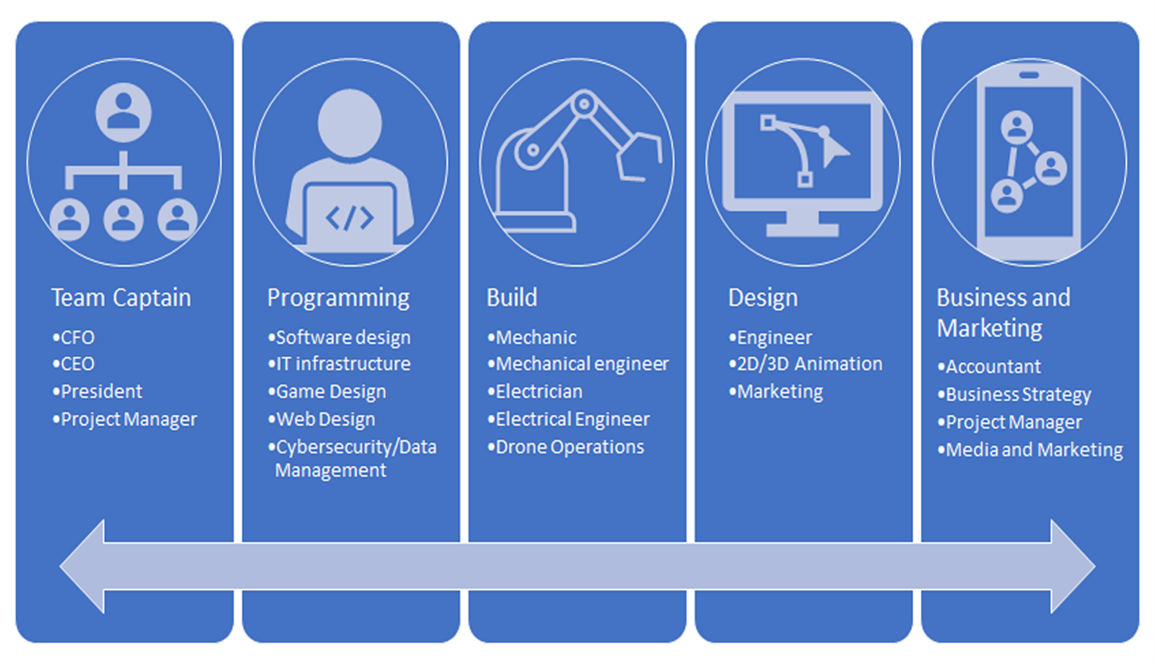 A student's pathway to their career today is different from the generation before. Today students have a host of opportunities to get into their chosen careers. As education evolves, we will see more options to allow students to experience the real-world demands of work in a practical way. Acquiring an industry certification helps students demonstrate they are ready for work but may also be counted as college and high school credits. Students who participate in FIRST are building skills that can lead to industry certifications.  The first step is reflecting on these skills and determining the role a student plays on the team which can help determine what skills are most important to pursue.     
A mentor guiding students to their own future goals while on a FIRST Robotics Competition team can look like:  
Students are doing the work - authentic, real-world problem solving through hands-on skill development.  
Using industry technology and experts to help expose students to skills they will see in future industries.  
Work-based learning through job roles on a team where skill development results in producing a product that can impact the team and community.  
Using industry mentors to guide students in their learning and how it applies to future careers.  
The FIRST Robotics Competition course accessible to Lead Mentors 1 and 2 through Thinkscape on the FIRST Dashboard has many resources to support student skill development.  The kit of parts has several resources for access to free learning tools and certification or badging opportunities. Access to this valuable skill-building opportunity is part of what makes FIRST extraordinary and builds pathways for students into their future careers!