FIRST Robotics Competition Blog
New Control System Components: Behind the Scenes
Aug 03, 2021
Written by Greg Needel, REV Robotics Co-Founder, FIRST Alumni & Mentor, & Crown Supplier
Late last month, you may have seen that REV announced details on the new FIRST Robotics Competition control system components that we have been working on since late 2018. As we look back on the almost three-year journey to get to this point, writing this blog seemed important to give teams insight into the process and some of the design decisions that were made.
Sometimes designing the next iteration of an already existing product can be more challenging than it would be to design a brand new product. Deciding what features to keep the same and what features to upgrade can be a daunting task. When it comes to the FIRST Robotics Competition control system, this 2022 revision is the 3rd major iteration of control system architecture since 2009. Since that original system, many things about the technology have changed, but many of the fundamentals of building robots have remained the same.
REV started the process of design for our devices by doing quite a bit of critical research on the existing and past systems, looking at them not just from a technical point of view, but more specifically looking at how students, mentors and volunteers use the devices. This gave us insight into what things we could improve on and what features might be useful to add.
After much internal and external discussion we established that our priorities for the new devices were:
Minimize common failure points for robots
Make devices simple to get started for teams
Make robots easier to debug by teams and volunteers
Lower overall system costs
Expand robot capabilities
The complete specs of these products are listed on our website but below are some highlights of features in our new components and what drove those design decisions related to our priorities.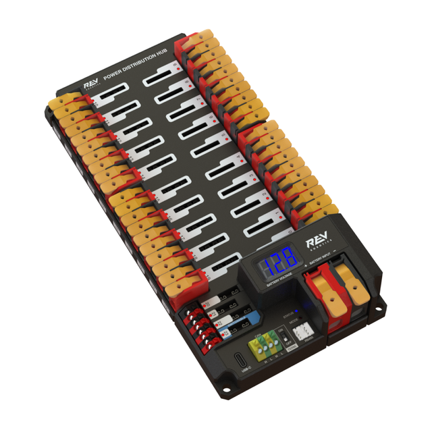 For the Power Distribution Hub, we chose to use WAGO lever terminals instead of the ones that have been used for many seasons that require a small screwdriver. We found that when fixing robot problems at events, getting the tool into position while still being able to put the wire in was a challenge even for the most experienced robot builder. Having the levers directly on the robot makes it faster to wire the robot, do quick fixes, and debug any issues that teams may have. These terminals have the same style cage clamps holding wires just as tight as before, making this a huge usability feature without any downside.
The previous generations of power distribution products that teams used have always featured distinct channels for 40A hook-ups. With all of the new innovation that is coming from teams, we wanted to see if we could make the device so all channels could support the full 40A. This led us to develop a custom 40A ATO Auto-resetting breaker, allowing for all channels of the same size and making the device as adaptable as possible for team's robot designs and wiring layouts. We don't expect that every motor on your robot will be high current, as you still need to manage your total current from your battery through the 120A main breaker, but having the option for higher current output available for once or twice a match mechanisms (like climbing) will be very useful. We look forward to seeing how teams utilize both the expanded number of channels and full flexibility on current limits for any channel.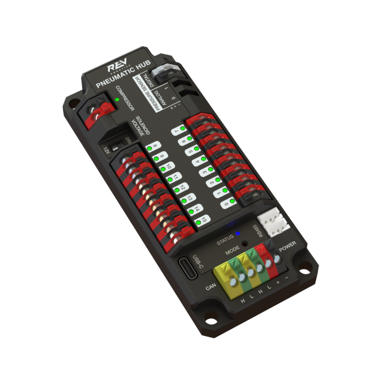 Direct USB communication on all devices is a core function across all the new REV control system components. The ability for a team to directly connect from a computer to a device was introduced with the SPARK Max, and we have gotten great feedback about this feature from teams. Keeping our system requirements in mind, we wanted to bring this feature to all of our new products.
Using the REV Hardware client you can directly connect to each device, read its status, update firmware, real-time control, and configure the devices. This USB connection also provides a CAN-bridge so you can talk to any additional devices on your robot, allowing teams a simple and straightforward way to make sure all of the devices on their robot are up-to-date. With the Pneumatic Hub for example, you can quickly switch any of the solenoid channels, see the pressure in your system (if you are using the analog inputs), or see how much current the compressor is using, on or off the robot without writing any software. This will make the inspection and debugging process at your shop or event much easier and faster.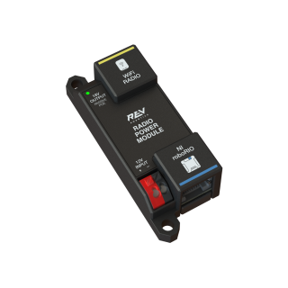 The number one priority with the new control system components was to take away points of failure on robots so that every robot operates in every match. When building new devices, sometimes you find out that less is more, as we did with the Radio Power Module. Our original design concept was a new "super voltage regulator" for teams with multiple controllable voltages and CAN/USB feedback for smart control. All of the features on that device were cool, but it quickly became obvious that our super-voltage-regulator concept was way overkill for its primary purpose of providing power to the robot radio. While we recognize the need for different voltage levels on robots, we decided that it would be more reliable and lower cost to teams if we made a dedicated device just for the radio itself. The RPM has nothing to configure, you just plug in cables and your radio will stay powered through the whole match.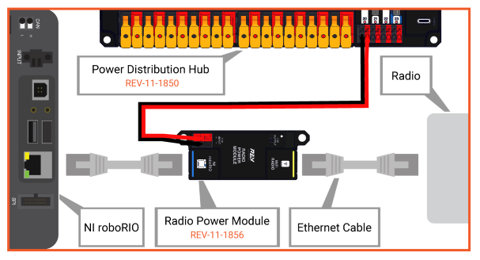 Pre-order of these devices will open up soon on REV's website, and will be available to teams in time for the 2022 FIRST Robotics Competition season.
There is quite a bit of detail that goes into each one of these devices, far more than I can cover in a single blog post. For that reason REV has created a development blog, where we will be posting information about these new devices and more. I hope you will follow along as we dig deeper into the development and production of these devices that your team will be using for years to come.