FIRST Robotics Competition Blog
Black Tote or…?
Sep 22, 2022
Written by Kate Pilotte, Sr. Kit of Parts Manager
Edited 9/29/22 to reflect actual Black Tote Option open date.
Context…
The "Kit" has evolved to include more than just what's shipped in totes at the start of the season; it's the Kickoff Kits (totes, Drive Base Kit/voucher), FIRST® Choice, and the Virtual Kit. See the Kit of Parts webpage for more information.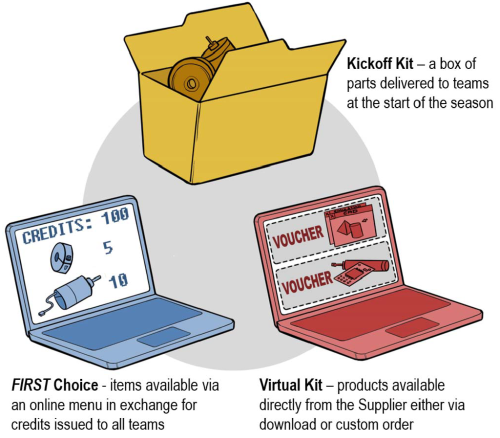 Something New…
This year, we're trying something new-ish.
Veteran teams likely remember that you're invited to opt-out of the drive base and, in exchange, you receive a $450 voucher to use at AndyMark.com. We're expanding this concept to also apply to the Black Tote (formerly known as the "Everyone Tote"), which for Veteran teams and along with the Drive Base Kit, is most of the Kickoff Kit.
Veteran teams are invited to opt out of the Black Tote in exchange for $250 in vouchers:
$125 to REV Robotics and $125 to AndyMark.
We are shifting some items out of the Black Tote and into a new container called "Season Specifics." Season Specifics ship to all teams, regardless of their drive base/Black Tote selections. This info graphic is hopefully worth more than a thousand words in describing what we mean.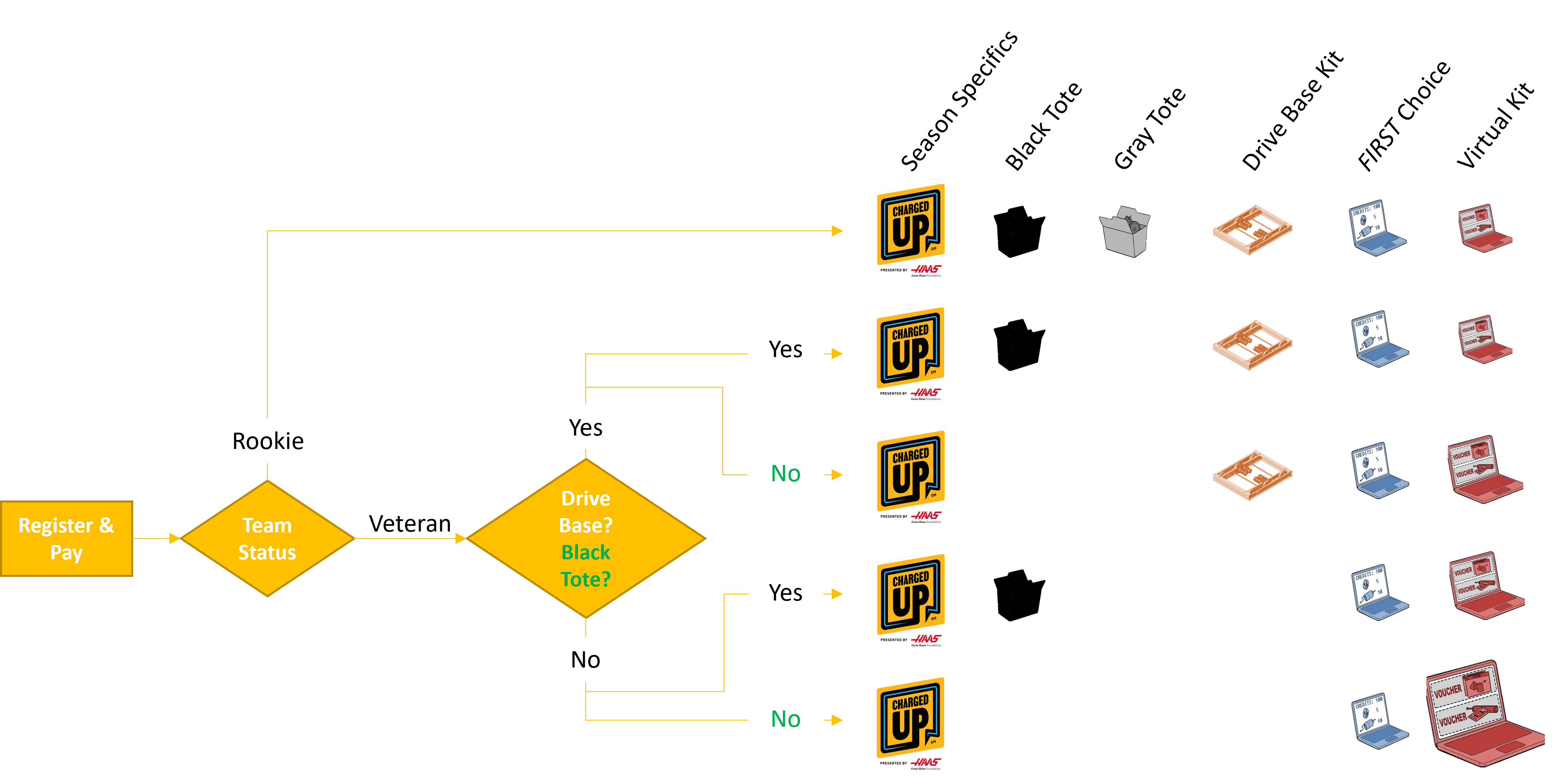 Details…
So, what's in what? Good question.
We're still confirming some items, and even confirmed material isn't all at the warehouse for kitting yet (my disclaimer that this is what we know as of today). Contents of the Black Tote are comparable to the 2022 "Everyone" Tote except for 2 large exceptions:
game specific items are in the Season Specifics container
Recent Kickoff Kits included 2 motor controllers in each Black Tote and 2 motor controllers in each Gray Tote. Due to supply limitations, motor controllers are only shipping in the Gray Tote (sent only to new teams) for 2023 (4 per Gray Tote).
We completely acknowledge that we're inviting your selection based on what we expect to ship in each container; it's just not realistic for us to commit unequivocally to contents at this time so you don't have a complete data set with which to work. We didn't want that to prevent us from presenting this option completely. We expect that, for some teams, this is an easy decision because of the Kickoff Kit inventory they've accumulated over time. Other teams may have a harder time with the decision.
We want to be clear that this decision is optional and irreversible after the deadline. If circumstances cause the Black Tote and Season Specific container contents to vary from what's presented here, there are no takebacks.
Season Specifics
Generally, the Season Specific container is intended to contain only items relevant to that season. For this first year, some donors sent material for the Everyone Tote and reasonably expected their material to go to all teams. For donors in which the "all teams" distribution was a priority, we're shifting those items to the Season Specific container with an expectation that they'll shift to the Black Tote in future seasons.
The items expected to be in the Season Specific container include the following:
a set of game pieces,
pneumatic tubing kit,
alumni pin packet,
Molex cable kit,
shaft collar,
participation pins (bag of 40),
voucher catalog & checklist,
NI Kickoff Kit Packet,
new reflective material (3M's 8830 used in 2022 is discontinued), and
all stickers/flyers/other Donor swag.
Black Tote
We expect to pack the Black Tote with the following materials (* limited quantity likely in FIRST Choice):
robot battery,
POE injector cable,
battery connector*,
Dual Lock,
radio power connector*,
Ethernet cable *,
main 120A breaker,
Snap Action circuit breaker kit*,
Robot Signal Light*,
CIM motors (2),
VHB tape*,
electrical tape (red & black)*,
wire (red & black in 6, 12, and 18AWG),
signal cable packet (2-wire cable, CAN cable, and 5 PWM cables – we are no longer sourcing Y-cables),
assorted terminal kit,
bumpons (1 sheet of SJ5009 & SJ5003 each)*,
grip tape,
Scotch splicing tape (130C, 1in x 30ft),
stealth wheels,
compliant wheels,
constant force spring packet,
rangefinding sensor
an igus bag, and
additional pending items we hope to secure in the next few weeks.
Timing…
Hopefully you're aware that the Drive Base Option has been available in your team's Dashboard since registration opened in May. The Black Tote Option goes live in the Dashboard on October 6, 2022 at noon Eastern time September 29, 2022. Both options close on Thursday, October 20, 2022, at noon, Eastern time.
Additional Notes…
The default (i.e. if a team does nothing) is that the Black Tote ships to the team.
The prerequisites for a team opting out of the Drive Base Kit apply to the Black Tote too… a team must be event ready (i.e. there are 2 Youth Protection Program screened mentors and no outstanding tasks on your dashboard).
The option is available to lead mentors 1 and 2 of event-ready veteran teams.
To make the selection, select "Payment & Product" under Team Options, choose "Black Tote Opt Out" and check the box to receive vouchers instead of the Black Tote. You can change your mind and uncheck the box later until the deadline on October 20, 2022.
If a team is not attending a local Kickoff, they have the option to be a "MySite" team and have their Kickoff Kit shipped to an address of their choice. The shipping fee is a flat ground or air rate (depending on the team's location on the planet) and does not change based on what Kickoff Kit pieces they've opted out of (i.e. a team that's opted out of the Drive Base Kit and Black Tote pays the same MySite shipping fee as a team that's receiving those two items).
The value of the vouchers is indicative of neither the fair market value of what's in the Black Tote nor what FIRST pays for items in the Black Tote. The value is a subjective assessment of a what would be a reasonable, easy decision for some teams, a difficult decision for others, and pinch of buffer because of the value in choice that vouchers offer.
Vouchers go live with the pre-Kickoff release of Virtual Kit items on November 17, 2022, noon Eastern.
Any separate items that ship outside the tote (because of their size or delayed delivery) are effectively considered Black Tote items and will not ship to teams that opted for the vouchers instead of the Black Tote.
I leave you with a picture of a picture on the wall of my office, the first Kit of Parts Engineer/Manager distributing his kits. Thank you, Woodie. <3