FIRST Robotics Competition Blog
Pro-Level Monday.com Accounts for Teams!
Learn about how to use your free monday.com account on Monday, August 15th - Webinar details below!
Aug 03, 2022
Written by Dan Goldenberg and Dean Yonah from OnyxTronix #2231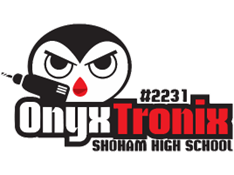 We are pleased to inform you about the partnership between FIRST and monday.com! monday.com is a cloud-based work operating system that allows teams to organize and manage their projects and assignments.
The platform offers customizable building blocks that allow you to make your own unique workflows and manage your season effectively.
As of the 2022 season, monday.com is officially a part of the FIRST Robotics Competition Virtual Kit, and the pro version of the platform is being made available for free by monday.com to all FIRST Robotics Competition teams around the world!
FIRST Global Webinar Registration
monday.com representatives and members of OnyxTronix #2231 will be hosting a webinar on August 15th at 1:00 pm EST, you're invited. In the webinar, we'll cover the basics of using monday.com specifically for FIRST Robotics Competition teams, and be happy to answer any questions about using monday.com from your team!
Please register for the webinar here.
Team #2231, OnyxTronix from Shoham, Israel, initiated the connection with monday.com and now supports other teams who are interested in using the platform.
Below are some examples of how they used the platform throughout the past season!
First, OnyxTronix used monday.com to break down all of the different assignments of the season into one board. All items are divided into 5 groups by their subjects: General, Mechanics, Control, Strategy, and Community and Marketing.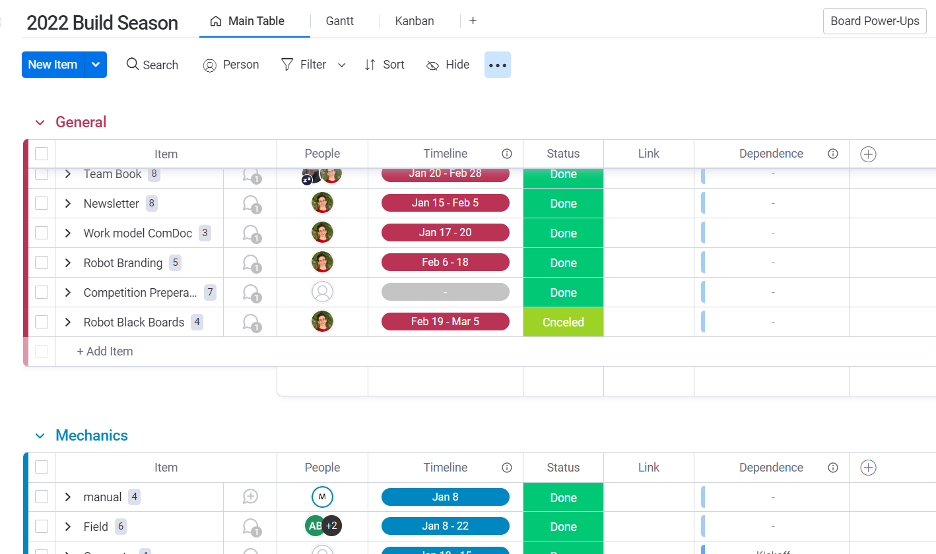 OnyxTronix also used monday.com to build a Manufacturing Table. This board is an example of an easy way to control and manage the manufacturing process of your team's robot. In the board you can fill in the critical information of the manufacturing process like date, part status, part ID, manufacturing way / place and more.
Using the Views feature which allows you to see the same board in multiple ways, the board can also be organized by the part's kind (profile, plate, 3D print, lathe and more) and the system it relates to (chassis, shooter, climber and more).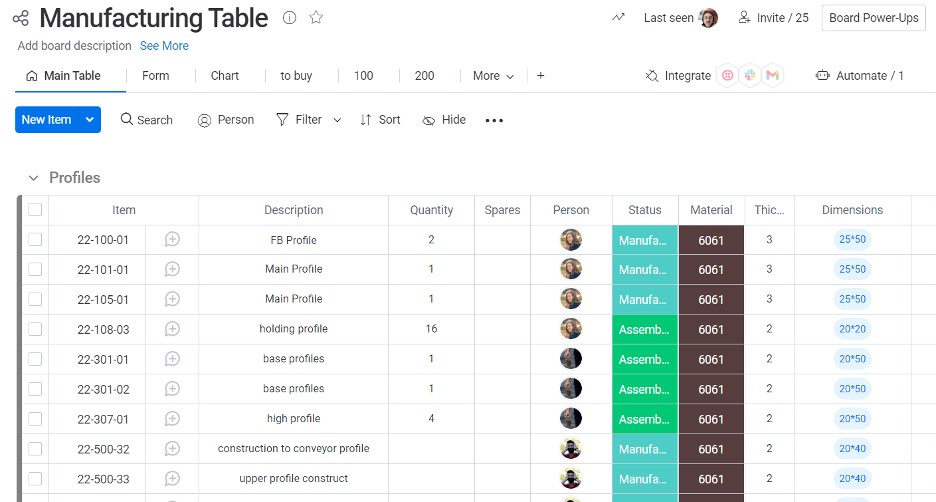 Another way to use the platform is the Dashboard view. This tool allows you to display important information from multiple boards in one place. Team #2231 decided to use this feature and make their 2022 Dashboard. In this dashboard they added status charts, a way to see people's workload by date, their season Gantt, a countdown to the kickoff and the different events, FIRST Israel's website and more.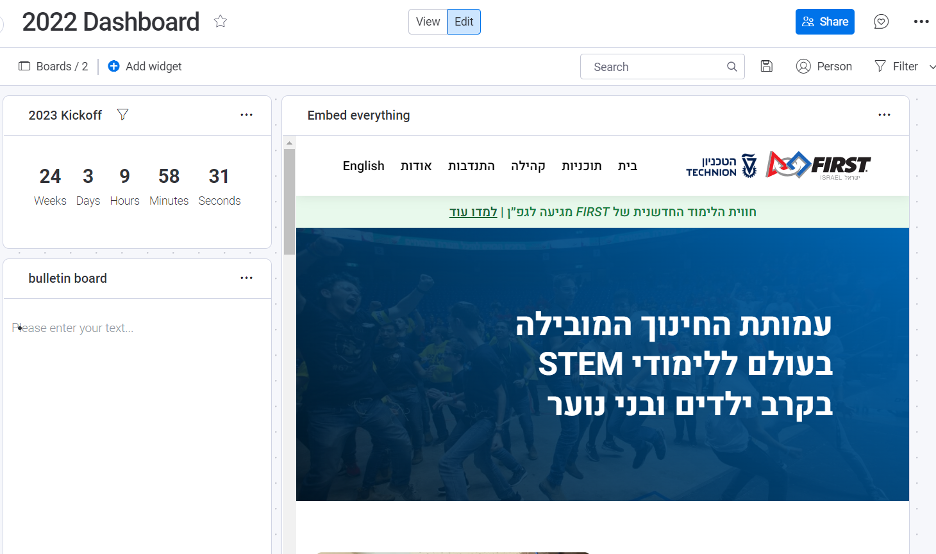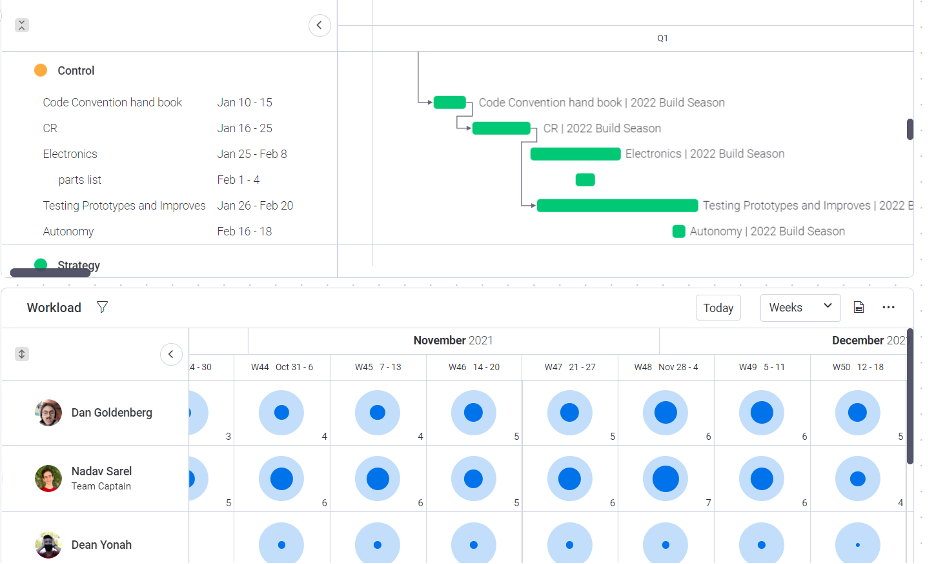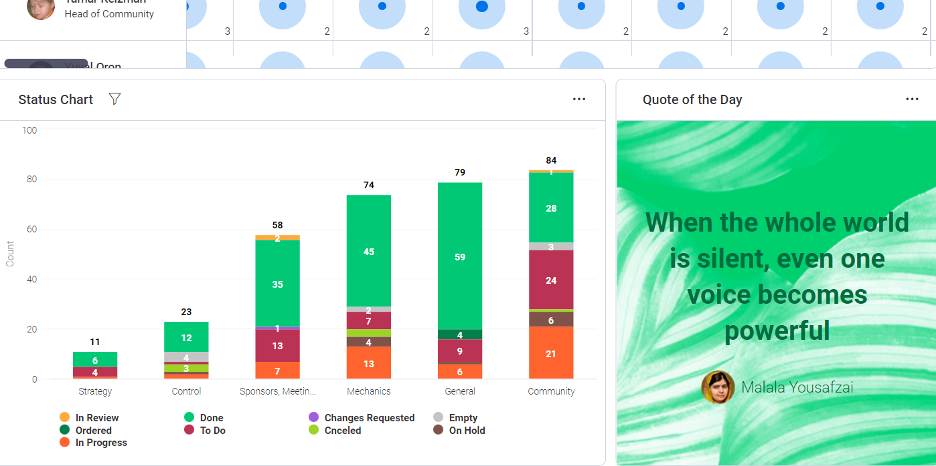 In order to start working with monday.com you can visit this link, follow the sign up steps, and create your pro account for free!
Team OnyxTronix #2231 has created a few ways to help new teams to start and use the platform: tutorials, templates, guidebook, webinar and more.

The team has created a series of several tutorials which explains the basics of the monday.com platform and the integration between monday.com and navigating the FIRST Robotics Competition season and challenge. You can see the tutorials via this link.
The team has also created a few templates to assist teams that are starting to use the platform create their workflow more easily. Teams can edit the templates in order to fit it to their needs. You can find the templates and a guidebook to assist understanding and using them in the monday.com & FIRST landing page here.
For teams that already use the platform, we have created an account renewal form. If teams want to renew their monday.com account for another year they can fill out this short form, and the account will be renewed shortly after.
For more monday.com related updates or questions you are welcome to visit their Chief Delphi Thread in this link.
We hope this gives you and your team something fun and exciting to work on during this off-season, and we can't wait to see how you embrace Mondays (dot com ;) )!