FIRST Robotics Competition Blog
Sunset on the 2022 Kit of Parts
Apr 13, 2022
Written by Kate Pilotte, Sr. Kit of Parts Manager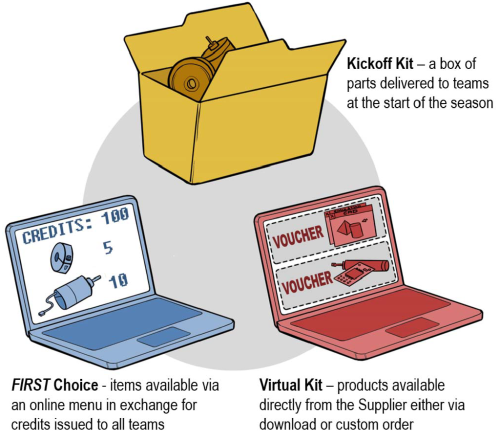 If anyone can snap their fingers and erase any and all supply chain issues for the next several months, please let me know. Until that magical person comes forward though, the Kit of Parts team is working to source material for the 2023 Kickoff Kits, FIRST Choice, and Virtual Kit. We've started earlier than ever before because we want to make sure we've got the goods in time for 2023 (and avoid pesky expediting fees). Even though we've worked on longer lead items already, we still want to hear from you about what's working and what could be done better so we can take that in to account as we work through the spring and summer.
The 2022 Kit of Parts survey is now live, and we really hope you take some time (20 minutes or so) to share your feedback. It's a good time filler if you're waiting for something… dentist appointment, Starbucks line at FIRST Championship…
We ask that no more than one student and one mentor from each team fill it out, you must be at least 13 years old, and it closes on Friday, May 13, 2022 at noon (Eastern).
Last, but not least, if you input your team number and complete the first part or the whole thing, your team is eligible for a chance to win your choice of goodies. It's our way to show our appreciation for your time and input.
I'll close by reminding you that 2022 FIRST Choice closes in just a few days (Friday, April 15th, noon eastern to be specific). There's still inventory available, so if you have credits, make sure you use them up (they don't carry forward to 2023 so use 'em or lose 'em). Thank you to AndyMark for continuing to host FIRST Choice!
Enjoy the rest of your week, season, and have a great summer.
Kate