Thank you,
FIRST
®
volunteers!
We know that without you we couldn't even begin to make an impact on students around the world. Because of your commitment to making a difference as a volunteer, FIRST® not only exists but is growing! It is your support and dedication that empowers students to become innovators, problem solvers, and better global citizens. While nothing we can offer will equate with what you give to our students, please take advantage of some of our recognition items.
Season Theme Digital Content: Celebrate your volunteer spirit on your social networks by displaying a new badge, profile picture, or header! You can download season theme digital content including wallpapers for your devices.
Download FIRST IN SHOW Digital Content here (.zip file)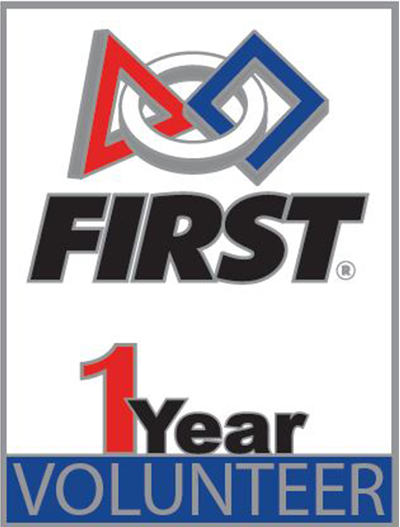 Year of Service Pins: Whether you are a new volunteer or have been volunteering for a while, highlight the number of years you've volunteered with FIRST with a FIRST Volunteer Year of Service Pin. The pins can be purchased from our Volunteer Recognition Store or you can download the digital graphics to add to your online profiles or email signatures.
Purchase Volunteer Year of Service pins from Recognition Store
Download Digital Volunteer Year of Service Graphics (.zip file)
Coach/Mentor Pins: Each season we release a special edition Coach/Mentor Pin to celebrate those who are serving our teams that year. You can purchase this year's pin or previous year's pins (while supplies last) at our Volunteer Recognition Store.
Purchase Coach/Mentor pins from the Recognition Store
Alumni Volunteer Patches: Are you an alumni volunteer? Order your alumni volunteer patch and add it to your backpack or other FIRST swag. Can be purchased from our Volunteer Recognition Store.
Purchase FIRST Alum Volunteer patches from the Recognition Store
Certificates of Appreciation: Coaches & Mentors can also access a Certificate of Appreciation direct from their FIRST dashboard.
Log in at  www.firstinspires.org
Click on My Dashboard in the upper right corner
Click on "Hello, Your Name" and select "Mentor/Coach 

Certificate

" from the drop-down menu

Download the certificate, fill in your name, and print
Certificates are available in both letter and A4 printing sizes
---
How do you inspire the next generation as a #FIRSTvolunteer?
Thank you for being a FIRST volunteer!