FIRST Robotics Competition Blog
Tomorrow, and tomorrow, and tomorrow…
Jan 09, 2019
Written by Kate Pilotte, Kit of Parts Manager
Well… actually this blog is about yesterday, today, tomorrow, the day after tomorrow (overmorrow?), and the day after the day after tomorrow, but Macbeth didn't say that, so it didn't work as well as a title.
Anywho…
Yesterday
Team Update 01 was posted. See the Section 1.7 of the 2019 Game and Season Manual for more about that. It's important to review updates because they include changes and clarifications to the rules.
Today
The official FIRST Robotics Competition Q&A opened today at Noon Eastern Time. The Q&A is the place to ask your questions about the game and event rules (integrated in to the Q&A this year!) and get official answers.
Anyone can make their own account in the Q&A System to subscribe to questions and be notified when answers are published. To get "asking" permissions with your account (limited to 1 account/team), you have to attach your team's authorization code to your account. An account isn't needed to just read and search existing questions/answers.
Team Authorization Codes for the Q&A System are available in the Team Registration System to Lead Coach Mentors 1 and 2. To access, go to the 'Team Options' section on the left of your dashboard and click on 'Payment & Product.'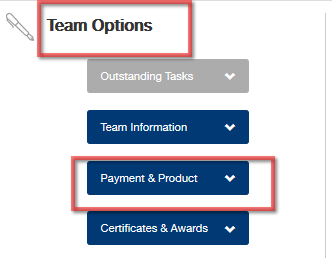 Then click on 'Passwords/Voucher Codes' and you will find the code listed under FIRST/Q&A Key.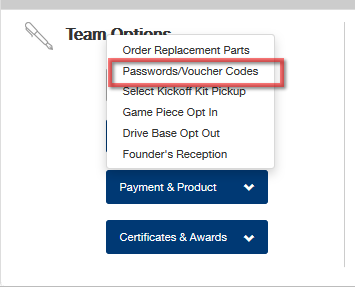 In the account you want asking questions, make sure it's affiliated with your team: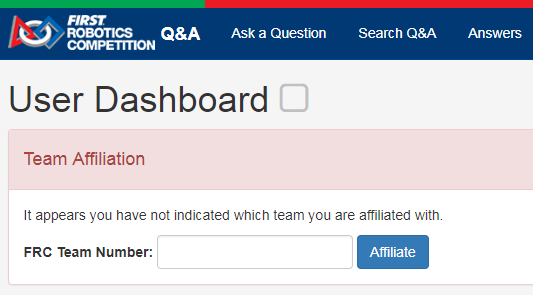 Then, enter the authorization code retrieved from your team's FIRST account: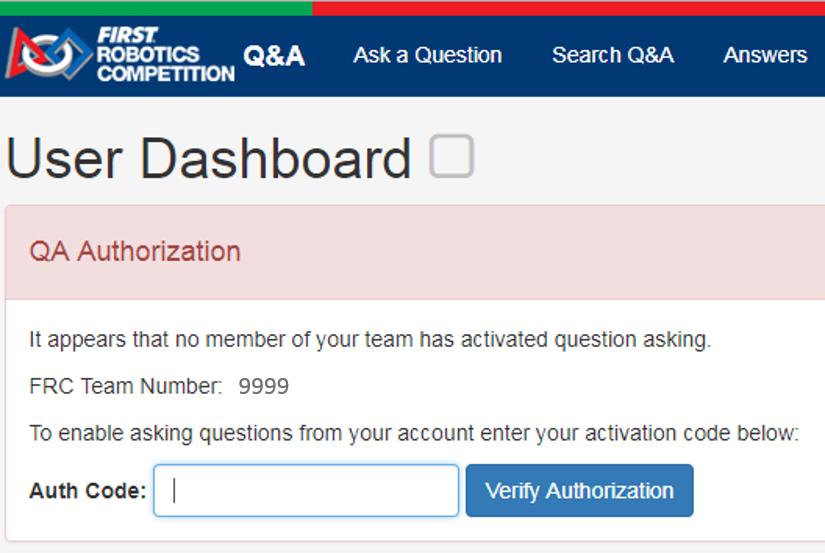 Please don't forget to search for your question first. You may find it's already been asked and answered (and if it's already been asked but not answered, you don't need to ask it again – just follow that question, and you'll see when the answer's posted).
Special shout-out to Blake Bourque, owner of Techplex Labs, who created our Q&A system. Blake is an alum of FRC Team 2648, Infinite Loop, from Oakland, Maine, USA. Thanks, Blake!
Tomorrow
FIRST Choice Round 2 Priority lists get locked tomorrow at noon (details here). Late priority lists are not accepted, so we strongly recommend you settle your list today to avoid any last-minute issues tomorrow morning (on your end or ours!).
The Day After Tomorrow
The replacement parts system (instructions were in this blog) closes at noon on Friday (Eastern time). Late requests are not accepted, so we strongly recommend you settle your request tomorrow to avoid any last-minute issues Friday morning (on your end or ours!).
The Day After the Day After Tomorrow
We welcome a dedicated crew of ~80 volunteers (from all over the world!) to FIRST HQ this weekend for Lead Robot Inspector (LRI) training. Training will be led by our Chief Inspector Al Skierkiewicz and Asst. Chief Inspector Chuck Dickerson. We're so grateful to this crew for giving up this weekend (and event weekends!) to help get robots inspected and out to the playing fields!
Good luck this season!
Kate