2020 FIRST Robotics Competition Digital Animation Award sponsored by AutomationDirect.com
FRC Team 1317, Digital Fusion, from Westerville, Ohio, USA, has won the 2020 FRC Digital Animation Award! Congratulations, team! Check out their video below:
A big thanks to our friends at AutomationDirect.com, sponsor of the award! You can see more about the award and other teams that were selected as judge favorites here.
Resources
Check out new, FIRST-endorsed resources from our friends at The Compass Alliance on the Supplemental Resources page in our Resource Library. They are worth a look!
Merch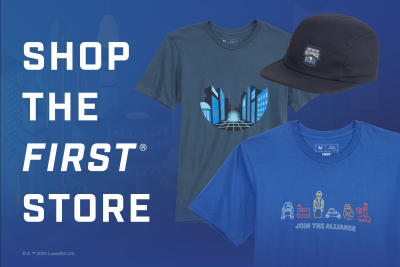 Much merch. Mountains of merch. A veritable tidal wave of FIRST merch, all available to you! Now's your chance to become INFINITELY stylish, with exclusive FIRST® RISESM, powered by Star Wars: Force for Change, merch from the FIRST store. Check it out here.
Week Zero
The official Week Zero pre-season scrimmage is this Saturday, February 15 and is being hosted by FRC Team 811, The Cardinals, in Nashua, NH, USA. You can watch the competition starting at 8:30 AM ET on our Twitch channel. I can't wait! And thanks, 811, for hosting!
Frank