FIRST Robotics Competition Blog
Downloadable Content (DLC) Pack 3 and Buttons
Dec 15, 2016
Written by Frank Merrick.
Looking for a little holiday something from FIRST? Some FIRST STEAMWORKSTM content, maybe a hint or two? Look no further. Lovingly wrapped and delivered!
DLC Pack 3
DLC Pack 3 is going to be released tonight at 7PM Eastern Time. You'll be able to download it here.
This DLC pack includes a special community-created element from Darryl Greathouse, Mentor for FIRST Robotics Competition Team 6193, "The Legend of Robotics". We had a few other community submissions for this DLC, but they weren't quite what we were looking for. Still, thanks to everyone who submitted! 
Buttons
I felt like we needed to share this. Fresh off the button machine, the newly redesigned team buttons for 2017! Every team will be getting a set like this (with your own team number printed on them, of course). Check them out: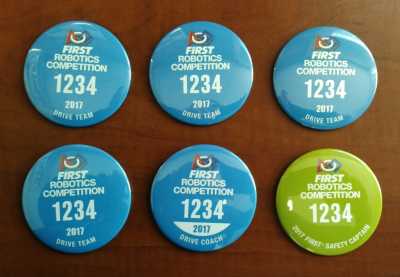 Frank