FIRST Robotics Competition Blog
Welcome to the FIRST Robotics Competition Blog
Your source of season information for the FIRST Robotics Competition.
Audience Displays and a Favor
Feb 22, 2016
Written by Danny Diaz, FIRST Robotics Competition Systems Engineer
A brief description of what teams can expect from the Audience Display screens for the FIRST STRONGHOLD season. Teams are asked to check the length of their Team Nicknames.
Get Your Own FIRST STRONGHOLD Patch
Feb 17, 2016
Written by Frank Merrick.
The History Patches we are providing to teams this season at events has generated some interest among some in our community about getting one for themselves.
2016 FIRST Safety Animation Award Sponsored by UL – Winner and Runners-Up
Feb 09, 2016
Written by Frank Merrick.
We have selected the winner and runners-up for the Safety Animation Award, sponsored by UL.
Congratulations, FRC Team 846, The Funky Monkeys, from San Jose, California, USA, on your winning entry!
The Funky Monkeys will be receiving a special UL-designed trophy at one of their events, and their animation will be played at every FRC event this season. You can see their winning animation below:
Distributors
Feb 04, 2016
Written by Frank Merrick.
There's been some buzz in the community about the availability of COTS parts and what companies that distribute parts potentially useful in FRC did or didn't know about FIRST STRONGHOLD ahead of time.
Sing at Championship, 2016 Non-Hints, and WPI Survey Help
Feb 03, 2016
Written by Frank Merrick.
Sing at the FIRST Championship
Think you (and maybe a friend) have what it takes to sing the National Anthem of the United States at the FIRST Championship this April in front of, oh, to a first approximation, a million people? Now's your chance! We're having a little contest to select the next FIRST idol. Check out the details here.
Awards, More Awards, and Medallions
Jan 27, 2016
Written by Frank Merrick
Awards
Important award submission deadlines coming up! 
Chairman's Award and Woodie Flowers Award – Thursday, February 4th at 3PM Eastern Time
Entrepreneurship Award and Dean's List Award – Thursday, February 11th at 3PM Eastern Time
Find all the details on these awards in Section 6: Awards of the Administrative Manual.
A Funny Thing Happened on the Way to FIRST STRONGHOLD…
Jan 25, 2016
Written by Frank Merrick
Some folks have expressed an interest in details about how FIRST STRONGHOLD came about. I wanted to explain a little bit about that, and also explain the part our friends, FRC Team 1189, The Gearheads, from Grosse Pointe, Michigan, USA, played in it.
Enter the FedEx Innovation Challenge to win big money and prizes!
Jan 24, 2016
Today's blog post is from a special guest, Jason Baker, from the FedEx Innovation Challenge Team.
Hashtags and robots and prizes – oh my!
The 2016 FedEx Innovation Challenge, an interactive social-media competition, is back and this year will be open to all FRC and FTC teams in the US. The Innovation Challenge takes place from January 9 – February 21, 2016.
Part problem solving, part creative challenge, this fun and engaging competition will consist of math and science problems, scavenger hunt activities, and more. Best of all, it's super easy to play.
Our Mistake and Q612
Jan 21, 2016
Written by Frank Merrick
Through Q612 on the FRC Q&A we learned that we made a mistake on the drawing for the Rock Wall. The Rock Wall is actually wider than indicated on the drawing.
Stop Build Day (already?), Achievement Streamers, and the Las Vegas Venue
Jan 19, 2016
Written by Frank Merrick
Stop Build Day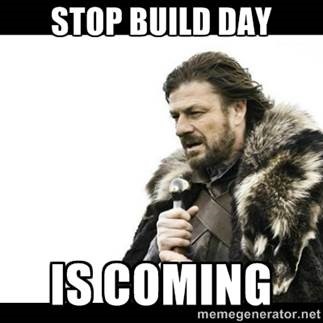 Yep, Stop Build Day is coming, and winter (at least for those teams in the Northern Hemisphere – but we love you, too, teams in the Southern Hemisphere!) is already here.