FIRST Robotics Competition Blog
Get Your Team Standard in a LEGO Set?
Jun 06, 2016
Written by Frank Merrick.
We hit a couple of milestones on the FIRST STRONGHOLD LEGO set proposal over the last few days. Check out last week's blog if you have no idea what I'm talking about.
First, we hit 1,000 supporters, which automatically triggered LEGO to give us another 182 days to hit the 10,000 vote threshold. This is very nice, though I hope we don't need it.
Second, just last night, we became the #1 project on the 'Popular this Week' section on the front page of the LEGO Ideas site! Check it out.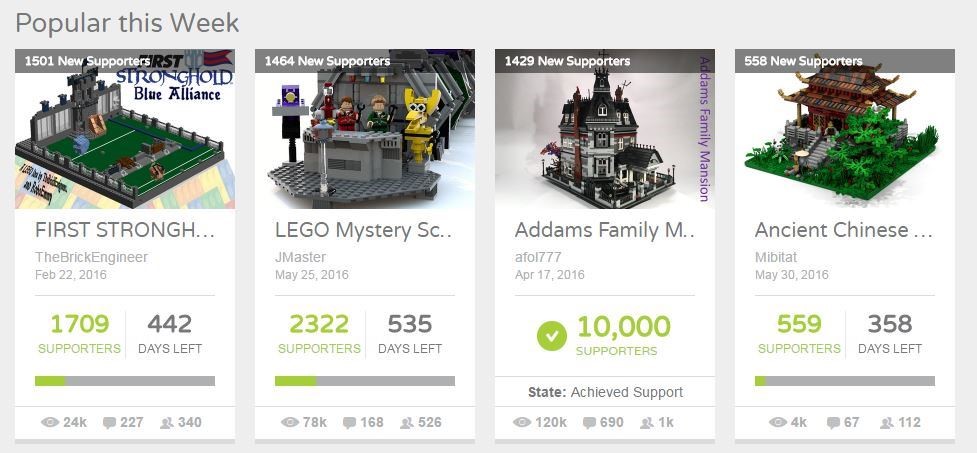 Take a closer look at the top three projects. You will see immediately one of the things they have in common is they are all 'brands'*, and have some level of built-in fan base. LEGO associates themselves with top brands – Star Wars, Lord of the Rings, DC Comics, etc. Do we have what it takes to join the list? We won't know for sure unless we hit that 10,000 vote milestone and move to the LEGO review phase. You can show your support by clicking here, then clicking the blue 'Support' button in the upper right. Site registration is required, but it's fairly straightforward.
There's also a chance your Team's Standard from the season could get included in this kit. If you take a look at the description on the project's website, you will see the creators are tracking how many supporters are from which teams by keeping an eye on the 'comments' section. If we hit the 10,000 vote total, they will propose to LEGO that the teams with the most supporters get their standards included in the set. Whether or not LEGO will like this idea, we don't know. But we won't get a chance to find out if we don't hit 10,000! So, as well as voting yourself, please encourage the rest of your team to do so, and make sure to add a comment on the project website including your team number!
Frank
*Hopefully you are familiar with Mystery Science Theater 3,000 (referred to short-hand as MST3K by hipsters like me), a show we've referenced before in this blog. If not, well, it can be a bit hard to explain but, if you have some time, you can start here.