SOLIDWORKS Supports FIRST Robotics
Jul 27, 2018
Written by Marie Planchard, Director of Education & Early Engagement, SOLIDWORKS.
Guest blog from SOLIDWORKS Director of Education & Early Engagement, Marie Planchard!
2019 Medals and FIRST TV
Jul 23, 2018
Written by Frank Merrick.
Check out the 2019 DESTINATION: DEEP SPACE medals! And be sure to tune in to FIRST TV on Tuesday, July 24 at 7pm ET for our next episode with Jasmine Florentine and Malcolm Strickland!
Name The Planet Contest
Jul 17, 2018
Written by Frank Merrick.
2019 Destination: Deep Space Name the Planet Contest is here!
FIRST Place Summer Day Camps
FIRST Place has exciting summer day camps in Manchester, NH. Through awesome hands-on interactive activities, guest speakers, and field trips, campers will find out just how cool science and technology can be!
Please visit the SEE Science Center website for more information and to register.
FIRST Place collaborates with the SEE Science Center to present the FIRST Place Invention Challenge Camps.
FIRST TV and IRI Coverage
Jul 12, 2018
Written by Frank Merrick.
Join us on Tuesday, July 17th at 7pm ET for an exciting interview along with a fun season-related contest! Plus check out the IRI coverage this weekend!
Control System Layout For All
Jul 10, 2018
Written by Frank Merrick.
A digital link to the 2015 Control System Board layout we gave away, plus a great photo of FIRST Robotics Competition Team 1189 and their bananas!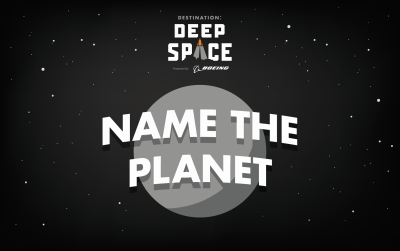 DESTINATION: DEEP SPACE Presented By The Boeing Company brings us to a planet in deep space that is as mysterious as it is inhospitable. This lifeless planet presents many challenges: Its atmosphere is toxic, its ever-changing landscape is dangerous and unpredictable, and...it has no name. Would you like to name it? Now is your team's chance to influence our story, and be forever known as the team that gave our planet its name!
Enter our "Name the Planet" contest today. If you are the winning team, YOUR entry will be featured in our teaser for the 2019 season of FIRST Robotics Competition. Have a great idea? Consult with your teammates and coaches, and enter your team's submission today - only one submission per team, please. Hurry: The contest deadline is 11:59PM EDT on Wednesday, August 15, 2018!
By submitting your entry into this survey, you irrevocably grant to FIRST and its assigns, licensees, and successors the right to use your submitted Planet Name in all forms and media including composite or modified representations for all purposes, including advertising, trade, or any commercial purpose throughout the universe and in perpetuity. You also waive the right to inspect or approve the use of the Planet Name for publication or other written copy used in connection with the Planet Name.
From Robots to IT: How One FIRST Alum and Mentor Got a New Job at FedEx
Jul 03, 2018
Written by Jason Baker, FedEx
This year at FIRST Championship a FedEx robot roamed the hallways. It's part of a growing fleet of robots used in our tech repair centers to help carry parts back and forth between technicians.
Advancement and Criteria
FIRST Tech Challenge Advancement and Criteria
Depending on the event structure within the region, teams may advance through different methods. For example, some regions go from Qualifying Tournaments to Regional/State Championships, while others go from League Meets to League Championship to Regional/State Championship. See the chart below for possible avenues of advancement.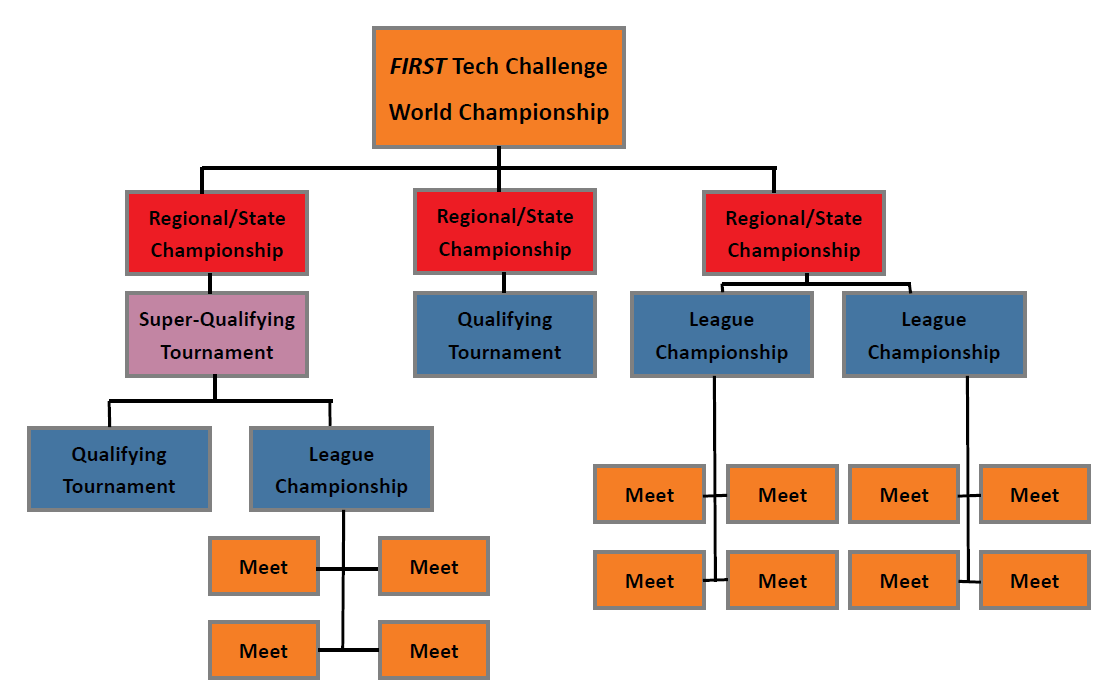 Teams will advance to the next level of competition in the order indicated below according to the number of spots available. The advancement criteria will be applied to teams advancing from Qualifying Tournaments to Championship Tournaments; from Championship Tournaments to the FIRST Tech Challenge World Championships in Houston, Texas and Detroit, Michigan.
In the event that the team listed has already advanced or there is no team fitting that description (as in 2nd team selected at smaller events), the advancement will continue in order.